Using our proteins, we help our customers achieve the taste, mouthfeel, functionality and nutrition profiles their customers want.
Cargill supplies protein ingredients such as pasteurized eggs and soy flour to customers around the world. A leader in both full-fat and defatted soy protein products, Cargill soy proteins offer the cost advantages that vegetable proteins have over animal proteins. Consumer attitudes toward soy are positive, and consumer demand for healthier foods continue to drive new product growth.
In this section
Our high quality proteins have a consistent performance and may help reduce your costs and increase your yield in many cases.
Beyond simple cost advantages, Cargill soy proteins provide added functions for a variety of food systems such as:
Fat / water binding

Emulsification

Texture / structure improvement

Viscosity building

Shelf-life extension

Protein enhancement

Consistent performance
As a soy protein supplier with a soy protein plant in the U.S. — and relationships with farmers around the world — we help our customers achieve the taste, mouthfeel functionality and nutrition profiles their customers want.
Working with our customers, we have developed a wide array of breads, baked goods, meats and other foods containing soy protein that promote health benefits.
Contact us today for more information or to request a convenient sample.
Product Information Downloads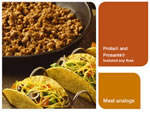 Soy Flour and Textured Soy Flour Product Brochure
In this rapidly changing industry we find ways to help customers reduce cost and improve speed to market. From design through development to manufacturing, we are committed to helping you make the most of your resources and optimize your products and processes.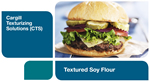 Paying Too Much for Textured Soy Flour?
Prosante® textured soy flour is the most economical source of lean meat replacement available. You'll see significant savings on your soy expenses, while delivering a better tasting product to consumers.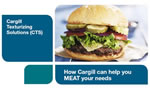 Cargill Can Help You "Meat" Your Needs
Are you looking for a low-cost protein product? Then, problem solved! Our textured soy flour helps lower fat, has affordable cost in use, improved yields and much more.
North America Locations
United States
Wayzata, Minnesota
15407 McGinty Road W, # 46
Wayzata, MN 55391
Soy Proteins: 1 877 765 8867
Mexico
Cargill de Mexico SA de CV
Antonio Dovali Jaime 70 - Torres C y D, Piso 11
Sante Fe - Álvaro Obregón
01210 México, D.F
Telephone: +52 551 105 78 64
Some Cargill products are only approved for use in certain geographies, end uses, and/or at certain usage levels. It is the customer's responsibility to determine, for a particular geography, that (i) the Cargill product, its use and usage levels, (ii) the customer's product and its use, and (iii) any claims made about the customer's product, all comply with applicable laws and regulations.