Brine Corrosion Inhibitor
Keep Your Low Cost Liquid from Creating High Cost Equipment Damage.
Cargill Deicing Technology's patented Brine Corrosion Inhibitor offers you a way to appreciate all of the benefits of brine without the salt-induced corrosion drawbacks. The levels can be adjusted to meet your specific needs and is safe to use with all chlorides including magnesium and calcium chlorides.
The amount of brine corrosion inhibitor needed to give you the protection you desire is substantially less than other common additives. This can help you reduce your environmental impact at an attractive price.
Available in liquid or dry flake formula, Brine CI provides flexibility for users to make the brine they need. By adding as little as 6% Brine CI, you can protect your equipment at a minimal cost.

Product Information
Questions About Deicing. Ask Dr. Scott.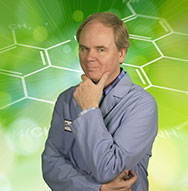 With over 20 years of research experience with deicers, Dr. Scott is ready to answer your most pressing questions about winter maintenance.