Sails, seafood and soil: 4 ways Cargill helps combat climate change
Read Time: 8 minutes
September 18, 2023
Cutting-edge technology to help decarbonize shipping. Scaling regenerative agriculture. Building a more sustainable beef supply chain. Sustainable seafood farming.
What do these things have in common? They're among the many ways Cargill is working to combat one of today's most pressing challenges: climate change.
It's no secret that agriculture is a major contributor to climate change — comprising about 25% of human-caused greenhouse gas emissions globally, according to The World Bank.
But at Cargill, we also believe agriculture is how we can help solve the climate crisis. We're committed to using our unique role across the agriculture supply chain to fight climate change — starting at the farm all the way through to your dinner plate.
"We've seen agriculture step up in big ways in the past," says Pilar Cruz, Cargill's chief sustainability officer. "And as we continue to partner with farmers — the stewards of our planet — I'm confident we can address some of today's most urgent sustainability challenges."
Here are four ways Cargill is using the power of food and agriculture to combat climate change across the globe.
Winds of change: Our wing sails are shaping more sustainable shipping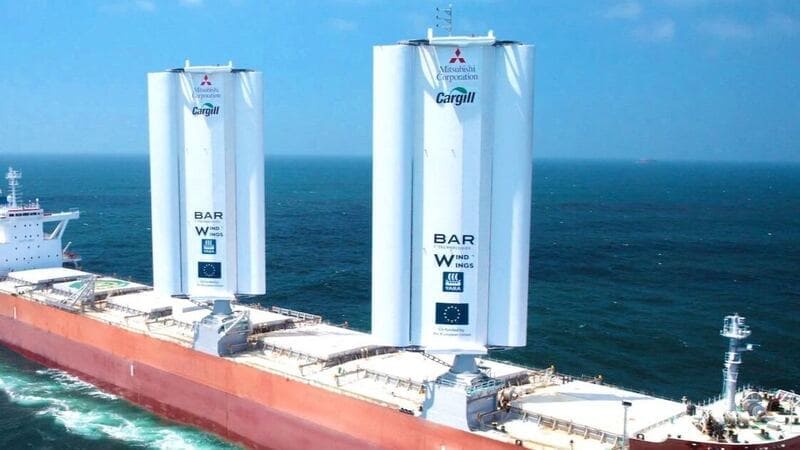 Pyxis Ocean is Cargill's first wind-powered cargo vessel, a potential game-changer for the maritime shipping industry.
Chris Hughes is a self-described "ship geek."
It's a passion the Cargill project manager developed as a kid in Australia, where he first learned to sail.
Chris turned it into a career: he spent 20 years as a naval architect. Today, it would take a very special ship to leave a guy like Chris stunned.
Cargill has one.
There are no other ships like the Pyxis Ocean, a bulk carrier retrofitted with airplane-style wings that rise 45 meters (nearly 150 feet) from deck and help propel Cargill's first wind-powered cargo vessel.
The wings, developed by Cargill and BAR Technologies, along with Mitsubishi Corporation and Yara Marine Technologies, have the potential to be a game-changer for the maritime shipping industry, which accounts for 3% of the globe's greenhouse gas (GHG) emissions.
"Every time I would step into that shipyard in China, where the wings were being put together, I would gasp," Chris remembers, "and say to myself, 'Oh, my God!'"
This wind-assisted technology could help diesel ships reduce fuel consumption by up to 30%. It's also a big step forward in our commitment to reduce our carbon footprint — and to help our customers do the same.
People around the world are taking notice, with coverage in media outlets like Bloomberg, Reuters, Financial Times and BBC highlighting the innovative shipping solution.
Beef farmers, ranchers, customers fighting climate change together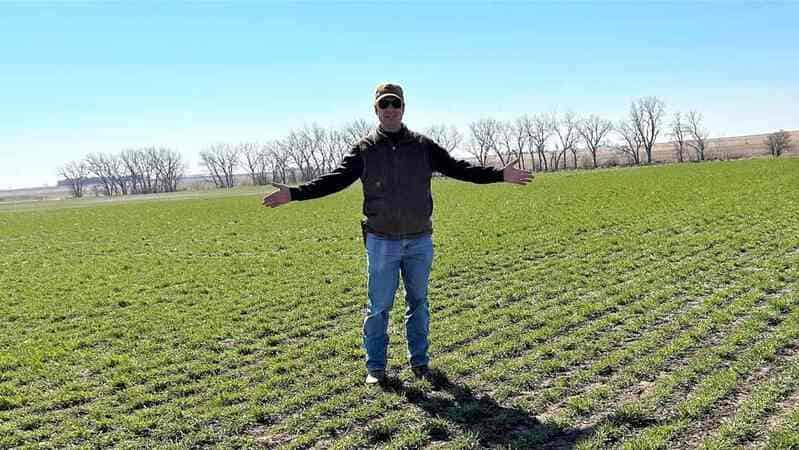 Todd Dzingle on his farmland in Nebraska. Todd participates in Cargill's BeefUp Sustainability initiative, which partners with farmers and ranchers to cut greenhouse gas emissions from the North American beef supply chain and help tackle climate change.
As the dust swirled around southern Nebraska in the dry spring of 2022, farms in the area saw their soil dry up and rip out.
Todd Dzingle looked across his corn fields in southern Nebraska and saw a different sight.
"
"Our fields were green, and the soil stayed where it was at," says Todd, who grows corn that feeds cattle. "How do you put a price on that? To me, that's priceless."
Not to mention the value of decreased erosion, suppressed weeds and ever-increasing organic matter he's seeing in his soil since switching to cover crops across his 1,400 acres, he adds.
Todd wasn't doing it alone. He had support — both technical and financial — from Cargill and its partners as part of the BeefUp Sustainability initiative. The program partners with farmers and ranchers to cut greenhouse gas (GHG) emissions from the North American beef supply chain and help tackle climate change.
"I'm appreciative of the program," says Todd, who is planning to transition his fields to multispecies cover crops. "I'm glad it's there to push me a little faster than maybe I would have gone."
Todd and the feed he produces are one piece of a much larger puzzle to make the North American beef industry more sustainable. Climate change is the top concern for U.S. and Canadian beef consumers, Cargill research shows. Beef production accounts for 3% of GHG emissions in the U.S.
"We have a huge opportunity to make a positive impact," says Jon Nash, leader of Cargill's protein and salt enterprise. "Our role is to work alongside farmers and ranchers, to advance creative new sustainability ideas and accelerate good conservation practices within the industry. It's a huge challenge, but I am passionate about this work, and excited about the advances we're making."
How does BeefUp Sustainability work?
Consumers want food that is good for the environment. Customers want to achieve their ambitious sustainability goals. And farmers and ranchers want solutions to tackle the impact of climate change and help them continue to feed the world.
Cargill's BeefUp Sustainability initiative was born in 2019 to meet these shared goals. We partner with customers, farmers, ranchers and nonprofits to reduce greenhouse gas emissions in our North American beef supply chain by 30% by 2030. The program focuses on four ways to help make beef production more sustainable: grazing management, feed production, innovation and food waste reduction.
Learn more about BeefUp Sustainability.
Netting zero: Helping fish farmers shrink their carbon footprint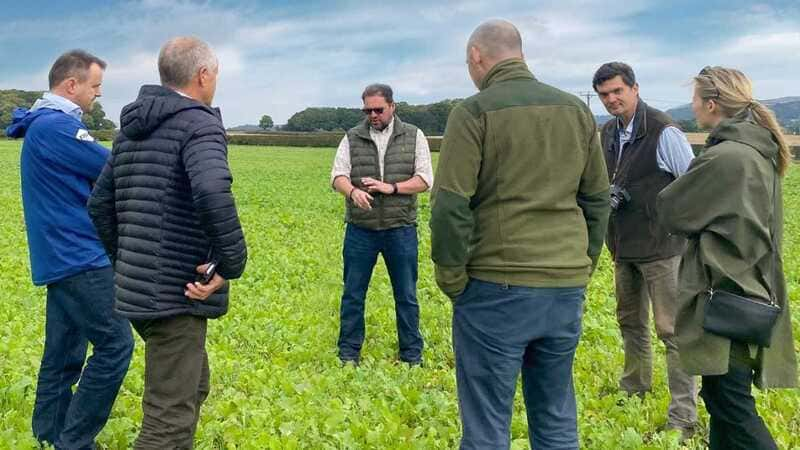 Norwegian salmon farmers visit a farm in northern England to learn how regenerative practices on wheat and oilseed rape helped reduce the footprint of their fish.
Cate Cannon understands the challenge — and the responsibility — of farming in the sea.
As the sustainability manager of Scotland-based Kames Fish Farming, she knows that seafood is an increasingly important source of protein for our growing global population.
Yet seafood farming has an environmental impact which must be managed and can be reduced.
With aquaculture feed often responsible for 60-90% of the total carbon footprint of the harvested fish, farmers like Kames are looking to partners like Cargill for help reducing that footprint — all while delivering high-quality, nutritious seafood.
"We are proud to lead the way," Cate says. "Carbon efficiency will only be fully achieved if we work together across the whole supply chain."
That is where Cargill's SeaFurther™ Sustainability initiative comes in. Through this sustainable aquaculture program, we are bringing together customers and suppliers around the world to help them produce the seafood the world needs and minimize their impact on the planet. The goal: reduce the carbon footprint of our customers' farmed seafood by 30% by 2030.
How does SeaFurther Sustainability work?
To help seafood farmers chart a path to net-zero emissions, Cargill's SeaFurther initiative focuses on three key areas:
Transforming raw materials used in feed ingredients: Whether by implementing regenerative agriculture practices, optimizing processing or streamlining logistics, we are working directly with our suppliers to find ways for them to reduce their greenhouse gas (GHG) emissions.
Optimizing production: Optimizing production includes managing energy use in feed production and farming, streamlining transportation and logistics, and tailoring our feed to the needs of the fish and their environment.
Safeguarding animal health: Cargill's Research & Development experts develop specialist diets that enhance the health and welfare of farmed fish in the changing environments faced by farmers. Healthy fish grow more efficiently, so more fish can be grown using fewer resources with fewer GHG emissions.
Learn more about SeaFurther and how we're advancing sustainable aquaculture throughout the seafood supply chain.
Farmers digging in with Cargill's regenerative agriculture program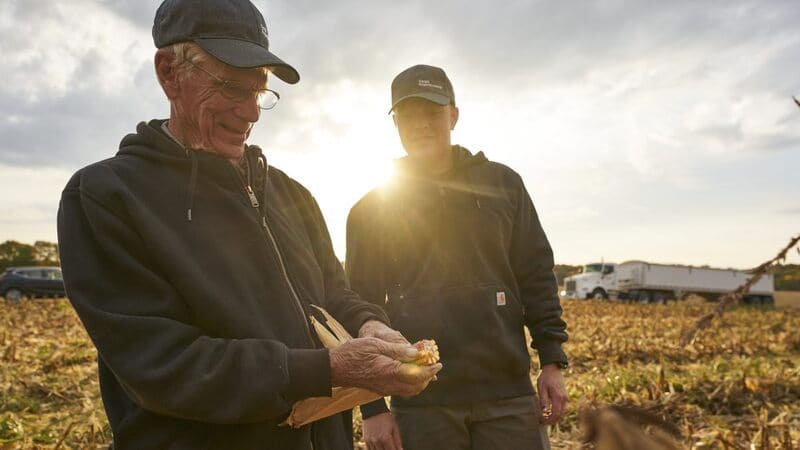 Steven Flaig is building a more resilient future on his farm in Montezuma, Indiana, after enrolling 1,500 acres in Cargill's regenerative agriculture program, Cargill RegenConnect®.
Three things fuel Steven Flaig and his coworkers during harvest season in Montezuma, Indiana.
"Adrenaline, coffee and eggs," he says with a laugh.
While those age-old inputs keep farmers like Steven going, the soil that supports his corn, soy and seed beans relies on newer support these days. Since 2021, Steven has enrolled 1,500 acres of land in Cargill's regenerative agriculture program, Cargill RegenConnect®. Through the program, he's using cover crops to maintain healthy soil — and build a more resilient future on his farm.
"We're building organic matter (in our soil), and we definitely need that in Montezuma on the sandy, gravely ground," he says. "I'm conserving the soil for the future. There's going to be someone out there who wants to farm, so you have to have someone help you out to pass it on. If you can help a young farmer for the future, why not?"
Connecting farmers with regenerative practices and new market opportunities is at the heart of Cargill RegenConnect. This year the program expanded to bring those same benefits to farmers and customers in four European countries — France, Poland, Germany and Romania — and nine new states in the U.S. To date, Cargill has enrolled nearly 1 million acres across 24 states in the U.S.
As the program continues to grow, so do opportunities to grow farmers' incomes. In a study of 100 farmers across nine states, conducted by The Soil Health Institute and supported by Cargill, researchers found soil health management systems increased incomes for 85% of farmers growing corn and 88% of farmers growing soybeans. The average income for corn growers increased by $52 per acre and $45 per acre for soybeans. Farmers also said, on average, growing corn cost them $24 less per acre and growing soybeans cost $17 less per acre.
"Companies like Cargill are helping to make it economically feasible for farmers to implement sustainable practices around the world," says Nathan Fries, Cargill's North America agriculture supply chain sustainability lead. "It is how agriculture and farmers can be part of the climate solution, helping to reduce emissions, improve water quality and use and build up the resilience of our soils for the next generation. Our vision is to make regenerative agriculture commonplace across our global supply chain, enabling farmers to produce food more sustainably while increasing their productivity and resiliency."
Learn more about Cargill RegenConnect.
More stories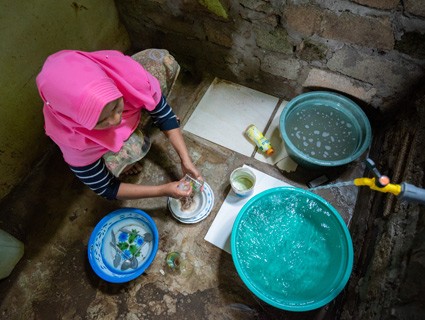 5 reasons why access to clean water matters
Did you know 2 billion people lack access to safely managed drinking water? Learn why clean water access is critical for people and our planet.
[]/[]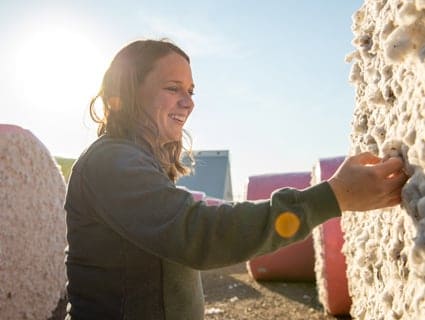 What is decarbonization? Everything you need to know.
Learn how we're working to decarbonize the food and agriculture system.
[]/[]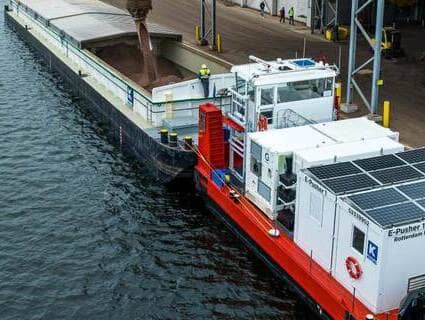 Silent. Efficient. The world's 1st zero-emission electric barge.
Cargill and Kotug International have partnered to create the first fully electrified industrial setup for inland shipping.
[]/[]