Joe Stone
About Joe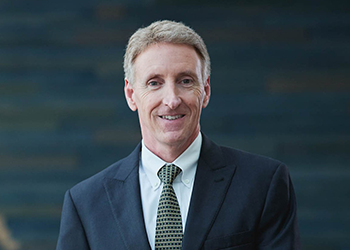 Joe serves as the enterprise leader for Cargill Animal Nutrition and is a corporate senior vice president for Cargill. He has worked as a manager for Cargill for more than 30 years. Currently, he is responsible for leading more than 23,000 employees across 40 countries. He also is chair of Cargill's Commodity Risk Committee, which provides strategic guidance and oversight for Cargill's risk management activities globally.
Joe joined Cargill in 1985 and spent many years in Cargill's grain origination and processing businesses. He also worked in Geneva with Cargill's global trading group before joining CAN in 2005. He has a bachelor's degree in agricultural economics from the University of Nebraska, and serves on the board of the Engler School of Entrepreneurial Studies there, as well as the board of World Food Program USA and the board of Yeutter Institute of International Trade and Finance.
Get to know Joe
Q: How will Cargill Animal Nutrition help meet the collective challenges in building a food-secure world in the decades to come?
Joe: Looking forward, it's a challenge and also an opportunity for us to contribute to a food system that will need to significantly increase protein production to meet rising demand. We must do this sustainably amid uncertainties regarding climate change and increasing weather volatility. This is what's so energizing about being in Cargill. We get to help be part of the answer as a "market-shaper" in nutrition. Our business model of helping producers prosper is all centered around providing better, more efficient solutions.
Q: Why is Cargill uniquely positioned to help farmers around the world nourish their animals?
Joe: We can leverage insights from Cargill's vast grain origination and processing network and work closely with other Cargill businesses in food, nutrition and animal protein to share insights and innovations. Our recent mergers with Provimi and EWOS are also adding to our capabilities and expertise. We are deeply committed to global nutrition as a company, and our investment in our people and technologies is making our customers more successful.
Q: Why did you want to join the board of World Food Program USA?
Joe: Cargill is a big supporter of the World Food Program; the work WFP does aligns so well with our purpose of being the global leader in nourishing people. WFP has been front and center in confronting the global humanitarian aid crisis driven by the tens of millions of refugees who have had to flee their homelands. I'm humbled at the chance to contribute some of Cargill's expertise in nutrition, food sourcing and distribution to help WFP fulfill its noble mission.
Q: What does the future of animal nutrition look like?
Joe: This is a growth industry, based on the worldwide demographics that are driving increased demand for protein. We work with great customers everywhere whose mission it is to produce safe, affordable, nutritious food. A globally integrated organization like Cargill Animal Nutrition – one that makes full use of our people's know-how and our assets across premix, aqua and livestock – has a lot to offer in sustainably meeting the needs of both today's consumers and future generations.