High demand, quick maturation and efficient production: These attributes of tilapia have led to rapid expansion and a very diverse market, particularly in Asia and Latin America. Producers today include not only larger operations, but many smaller farms where extended support services are crucial.
We go beyond feed production and aim to provide tilapia farmers with a more complete business solution. This includes technical support from local specialists to help you improve productivity.
Choosing the right feed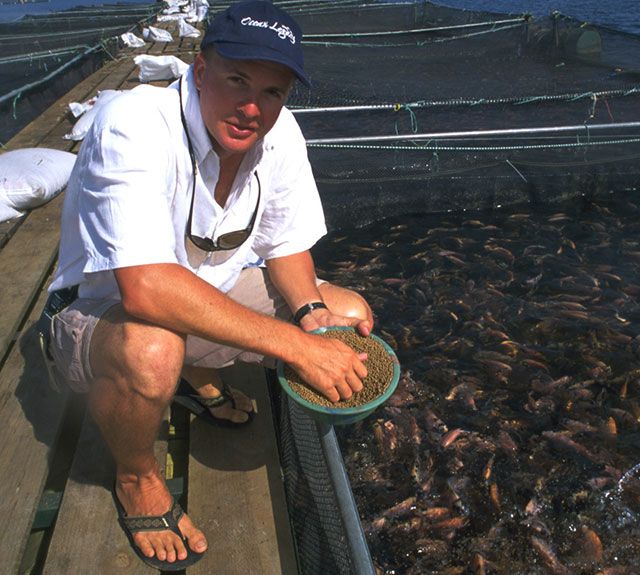 Feed characteristics such as pellet color, smell, uniformity, fines, and water stability all are important. But the key factor for any fish producer is profitability – and that depends on a whole range of factors.
We listen to individual producer needs and help to ensure that you choose cost-effective and viable feed options for each stage of fish development, maximizing feed conversion ratio (FCR) and average daily gain (ADG).
Meeting market challenges
Tilapia aquaculture is a diverse and rapidly changing industry, and it has to meet challenges that include drought, zoning regulations, shifts in market size, losses to local carnivorous species and more. Working with Cargill helps you plan more effectively for the future and achieve sustainable business growth that benefits both you and your employees.
We help small farms monitor feed performance and water quality for each fish crop, and we provide ongoing development of new products and services. Both productivity and sustainability are supported by our farm best practice services, mobile lab services and feed performance measurements – Design and Conformance (D/C) and Proof of Performance (POP).
Larger farms depend on us for the consistent production costs, fish yields and fish shape they need to meet market demands. We innovate new products for fish supply systems and work closely with end users to make sure you have the production solutions that work for your business.
The shape of success in Asia
Making tilapia more attractive to consumers
Now one of Northern Thailand's largest fish farms, Kornkeit Farm was founded by Kornkeit Promjuang in 1997. At that time, sales of tilapia were high, with no concerns about supply chains or production costs. However, attracted by a lucrative market, many new farms started growing tilapia and created a large oversupply – triggering what Kornkeit Farm refers to as "the time of competitive fish."
We worked with Kornkeit to understand what consumers wanted. Scales, color and taste mattered, but we found that when consumers bought tilapia, they valued one thing above everything else: a fish with the right body shape. Put simply, they wanted rounder fish. Kornkeit Farm was losing sales on fish that carried more meat yet were seen as smaller and less desirable in the market.
A series of trials at our innovation center in Elk River, Minnesota, unlocked the nutrient combinations that would deliver the right body shape for local preferences, and a suitable feed was formulated. Our Strategic Marketing and Technology (SMT) team also assisted Kornkeit Farm in developing a complete and highly efficient supply chain, from sourcing baby fish through feeding and harvest to delivering live fish to the marketplace. We assisted in improving farm management practices, fish health and water quality management, with strong results. Tailored feed combined with a good oxygenation system has provided Kornkeit Farm a more efficient feed conversion rate.
The new feed formulations and farming practices have yielded tilapia with the best shape for local consumers. The fish also taste better and—in a land where consumers expect to buy their fish live—perform better in transport.
"My customers are very satisfied and happy," said Kornkeit Promjuang. "And we can sell more fish at good prices."