Faster production cycles, more shrimp per unit area, increased profitability. All can be achieved using the right nutrition, with a culture system that leads to harvesting the highest biomass.
Cargill can customize feeding programs to meet your individual technical and economic goals. Our high-quality feed is designed to improve shrimp health and yield the highest possible shrimp weight in the shortest time. Success in aquaculture involves many factors, and we offer the dependable, value-added services you need, no matter what your shrimp production targets.
Brands with values
With many decades in aqua nutrition under both the EWOS and Cargill brands, we believe in doing business the right way. We promise farmers only the results that we know we can deliver, and we work hard to continue providing the best possible customer service.
Sustainability also is a core Cargill value. We invest heavily in our research and development programs to create aquaculture solutions that are not only more productive, but that also protect our environment and natural resources for future generations.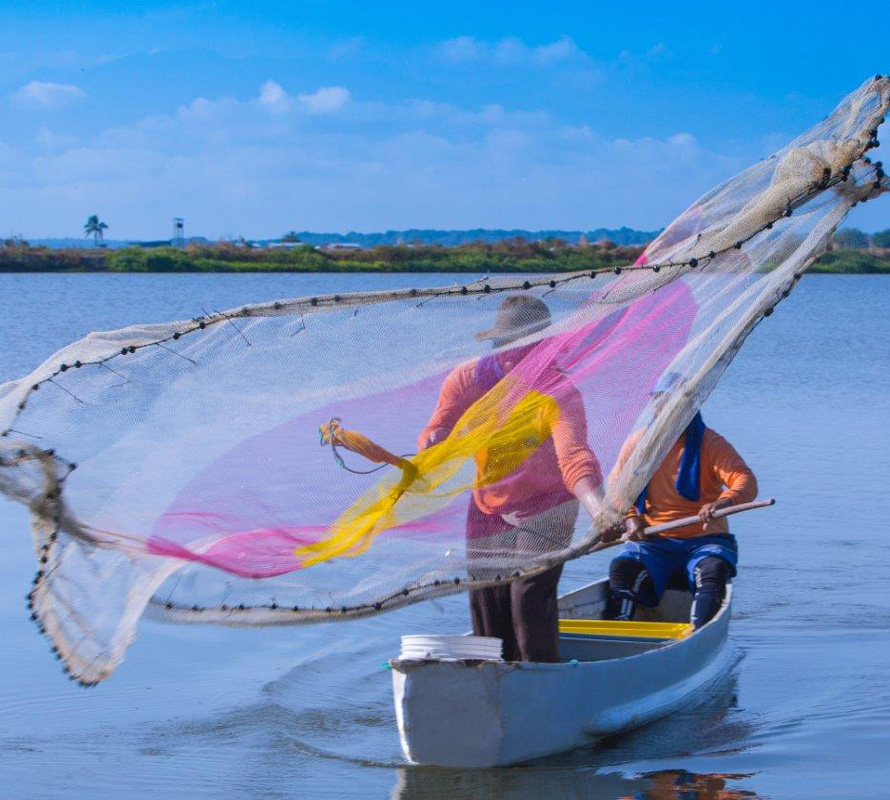 High-performance feeds
We use careful sourcing processes and our ongoing research to ensure the consistent nutritional content and physical properties of our shrimp feeds. We have in-depth knowledge of the nutritional needs of shrimp, and we can provide effective alternate formulations in markets that limit the use of specific ingredients. We also are a pioneer in the area of functional feeds, designed to support shrimp through challenging parts of the production cycle.
Close customer support
We regularly help customers to improve many different areas within their operations. A wide range of training is available for farmers who want to develop particular skills or achieve certifications. Extensive on-site technical assistance helps to ensure you can make the right aquaculture decisions at your particular location, taking all regional conditions into account. We also offer important options such as financial credit, as well as feed management technology designed to improve technical and economic results.
Above all, Cargill brings you truly personalized account management, with a single point of contact for all questions and requests. Your Cargill representative is someone close to your business who draws on the deep expertise of a large global organization.
Helping Central American customers reach global markets
Developing new capabilities and global certification
Seajoy is a large shrimp producer that has run integrated operations in Central America for more than 30 years. It ships most of its shrimp to the U.S. and Europe, meeting very demanding regulations along the way. These include product origin, processes, raw materials and ingredients, and labor conditions. The company operates under several certifications, including Best Aquaculture Practices (BAP).
The global BAP system for good aquaculture involves a four-star rating system. One star is granted to producers who can breed shrimp larvae to BAP requirements. Two stars show compliance around farm operation and management. The third star relates to finished product processing and packaging, and the fourth star to feed.
Seajoy had achieved three stars, but needed a BAP-certified feed for its fourth star – important in consolidating its position as a top-quality, responsible global shrimp producer. We worked to get our feed plants in both Honduras and Nicaragua BAP certified, becoming the first feed supplier in Central American to do so. As a result, we were able to help Seajoy become the first shrimp producer in the region to hold the top BAP rating by earning that fourth star.
"We are very excited with the growth and acceptance of the BAP program in both Central and South America," said Peter Redmond, BAP vice president of market development. "The industry has recognized and reacted strongly to the fact that aquaculture is a supply chain in production, primarily starting with the feed mill and ending up with the processor. Cargill's leadership position on this is a very bold move and enhances the value and importance of four-star BAP product being delivered to the actual marketplace."