Aquaculture Innovation
Innovating for the future
Our vision is to provide healthy seafood for future generations. This entails investing heavily in research and development to understand the varying nutritional requirements of fish species, and then responsibly supplying more and more efficient feeds. More than 100 R&D professionals work diligently to innovate and improve our offerings for customers.
As pioneers in fish feed research and innovation, these specialists can point to a long track record in bringing important new products to market. Some of the most significant innovations within the international aquaculture industry have been made available through the EWOS brand. We also document feed efficiency on a large scale with a database tracking more than 500 million salmon that have been fed and harvested by EWOS in Norway.
Examples of innovation include health feeds that are developed to support fish through stressful parts of the production cycle. Another example is our COMPASS concept, developed through research into nutrient absorption and growth, which ensures that salmon feeds can be adapted to the different needs of spring and autumn fish.
More examples of our aquaculture innovations
Global Innovation Centres
Our Global Innovation Centers are located in Dirdal, Norway, and Puerto Montt, Chile and most recently Colaco, Chile. These centers give us important insights into new ways to improve productivity and fish welfare.

The Dirdal research facility focuses on nutrition, applying metabolic modeling in order to understand nutritional requirements at all stages of the production cycle. The feed products that come from this research help to combat challenges from sea lice and from diseases such as Salmon Rickettsial Syndrome and Amoebic Gill Disease.

Research at the Puerto Montt facility has led the way in new functional feeds. EWOS-branded functional feeds represent an entirely new product category, creating feed designed specifically to support fish through stressful points of production. Products now available include EWOS BOOST and EWOS ROBUST – two functional feeds that provide documented effects beyond general nutrition. These feeds contain nucleotides, vitamins and attachment inhibitors against sea lice.
Customer benchmark in Norway confirms growth potential
EWOS RAPID delivers 27 percent improved performance
We continue to push the envelope in industry-leading products. In early 2015, customer Lerøy Midt ended a benchmark trial comparing conventional EWOS OPAL 110 against EWOS RAPID – the first feed developed using Cargill's COMPASS methodology. The trial started August 2014 in Gunnarøya, with an autumn 2013 fish, ca 1100 g.
Five pens were fed with EWOS RAPID, and five with EWOS OPAL 110. The results demonstrated improved growth with EWOS RAPID of 27 percent. The control group delivered very good outcomes, but the trial group did substantially better. EWOS RAPID resulted in a large positive difference in growth (controlled for variation in fish weight) and a significantly lower EFI (feed conversion controlled for variation in fish weight).
Real-world commercial results also confirmed fewer weeks at sea, with a shorter life cycle and larger fish. In fact, the EWOS RAPID-fed pens were ready for harvesting five to seven weeks earlier than those fed a standard diet. This product is now being made available in Scotland.
More Productive Feeds
Promoting rapid growth is another important focus. Since its launch in Norway in 2014, the performance feed EWOS RAPID has been helping salmon farmers to achieve optimized performance, giving fish a finely tuned balance of macronutrients such as protein and fat. This cuts the feed conversion ratio and helps to address challenges such as deteriorating gill condition and sea lice infestation.
EWOS RAPID is the first feed to be designed using our new COMPASS optimization tool, based on many years of research. Using COMPASS, our scientists predict and take into account changes in nutritional needs based on differences in smelt type and body composition, then adapt feed composition to reflect fish physiology under different environmental conditions.
Helping Central American customers reach global markets
Developing new capabilities and global certification
Seajoy is a large shrimp producer that has run integrated operations in Central America for more than 30 years. It ships most of its shrimp to the U.S. and Europe, meeting very demanding regulations along the way. These include product origin, processes, raw materials and ingredients, and labor conditions. The company operates under several certifications, including Best Aquaculture Practices (BAP).
The global BAP system for good aquaculture involves a four-star rating system. One star is granted to producers who can breed shrimp larvae to BAP requirements. Two stars show compliance around farm operation and management. The third star relates to finished product processing and packaging, and the fourth star to feed.
Seajoy had achieved three stars, but needed a BAP-certified feed for its fourth star – important in consolidating its position as a top-quality, responsible global shrimp producer. We worked to get our feed plants in both Honduras and Nicaragua BAP certified, becoming the first feed supplier in Central American to do so. As a result, we were able to help Seajoy become the first shrimp producer in the region to hold the top BAP rating by earning that fourth star.
"We are very excited with the growth and acceptance of the BAP program in both Central and South America," said Peter Redmond, BAP vice president of market development. "The industry has recognized and reacted strongly to the fact that aquaculture is a supply chain in production, primarily starting with the feed mill and ending up with the processor. Cargill's leadership position on this is a very bold move and enhances the value and importance of four-star BAP product being delivered to the actual marketplace."
The shape of success in Asia
Making tilapia more attractive to consumers
Now one of Northern Thailand's largest fish farms, Kornkeit Farm was founded by Kornkeit Promjuang in 1997. At that time, sales of tilapia were high, with no concerns about supply chains or production costs. However, attracted by a lucrative market, many new farms started growing tilapia and created a large oversupply – triggering what Kornkeit Farm refers to as "the time of competitive fish."
We worked with Kornkeit to understand what consumers wanted. Scales, color and taste mattered, but we found that when consumers bought tilapia, they valued one thing above everything else: a fish with the right body shape. Put simply, they wanted rounder fish. Kornkeit Farm was losing sales on fish that carried more meat yet were seen as smaller and less desirable in the market.
A series of trials at our innovation center in Elk River, Minnesota, unlocked the nutrient combinations that would deliver the right body shape for local preferences, and a suitable feed was formulated. Our Strategic Marketing and Technology (SMT) team also assisted Kornkeit Farm in developing a complete and highly efficient supply chain, from sourcing baby fish through feeding and harvest to delivering live fish to the marketplace. We assisted in improving farm management practices, fish health and water quality management, with strong results. Tailored feed combined with a good oxygenation system has provided Kornkeit Farm a more efficient feed conversion rate.
The new feed formulations and farming practices have yielded tilapia with the best shape for local consumers. The fish also taste better and—in a land where consumers expect to buy their fish live—perform better in transport.
"My customers are very satisfied and happy," said Kornkeit Promjuang. "And we can sell more fish at good prices."
Sustainability Reporting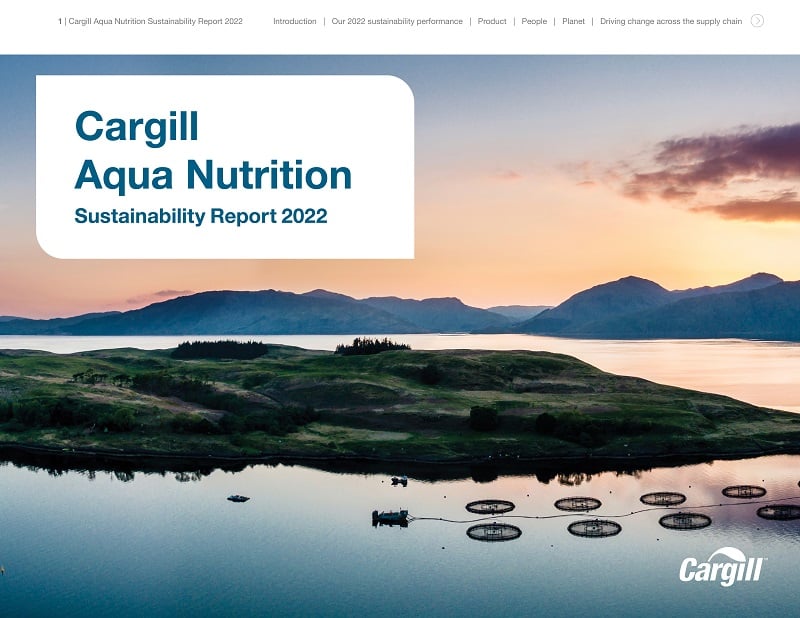 To deliver on our promise of healthy seafood for future generations, we commit to support the sustainable growth of the global aquaculture industry by creating better operations in a better workplace with better supply chains.