What are BiOH® polymers?
BiOH polymers are cost-effective plant-based resins developed for carpet and flooring manufacturers with binding, adhesive and foaming applications. Engineered to displace chemicals derived from heavy and light crude oil, BiOH polymers significantly reduce manufacturing costs while meeting the growing consumer demand for eco-friendly goods at reasonable prices.
Easily incorporated into the production process, BiOH polymers mix with existing latex and final carpet backed compounds and can reduce the need for thickeners. The shorter cure times and lower cure temperatures enabled by BiOH polymers save energy, and the shorter production times required can translate to increased product yields. BiOH polymers also reduce VOC emissions from production through finished-product stages, and further improves product performance by increasing binder strength, particularly during wet conditions.
How flooring is made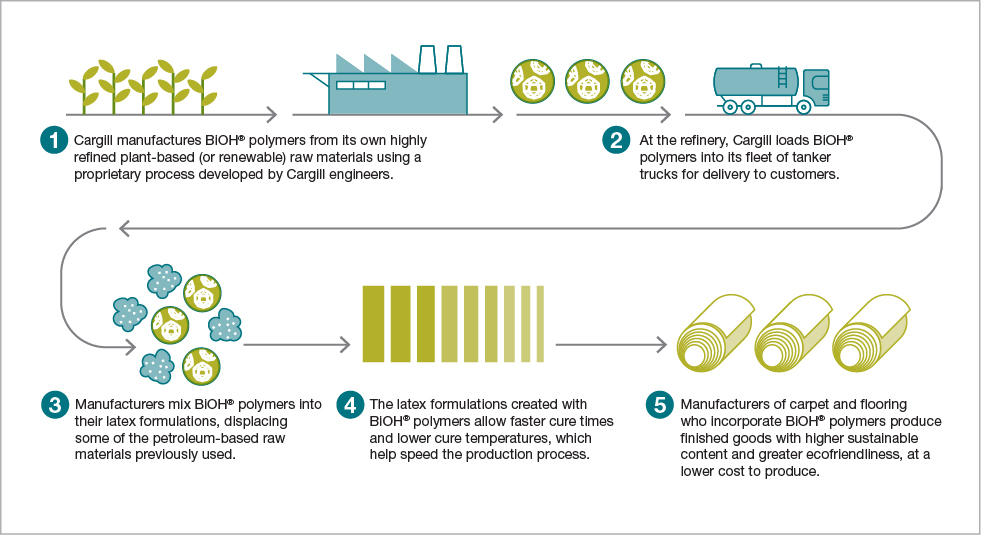 Engineered by Cargill with rapidly renewable plant-based ingredients, BiOH polymers will also allow manufacturers to achieve higher renewable content and a lower carbon footprint—both of which contribute to higher scores in sustainability assessment programs.
The products and services described on this website may not be available in all jurisdictions or to all persons.