Finding innovative and sustainable ways to feed the world
September 20, 2021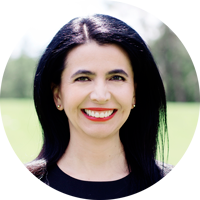 By Pilar Cruz
Chief Sustainability Officer
The world will be home to 10 billion people by 2050. This puts pressure on our industry to increase food production to nourish the population, but that can't be at the expense of our natural resources.
The industry must evolve. At Cargill, we are purposefully bringing sustainable innovation to farmers and customers alike. Together we can tackle climate and food supply challenges never seen before.
To foster a more sustainable approach, we are creating connections across the food system, transforming how food is grown, how it's produced and how we move food to family tables around the world. We're prioritising investments in innovations that have the greatest potential to build a stable global food system for future generations.
Farmers are environmental stewards
The food system starts at the farm. We intend to build on the strong environmental stewardship work already led by farmers and ranchers. When farmers adopt regenerative practices, like eliminating tillage or adding cover crops, we can mitigate climate change and improve the soil. With 10 million acres targeted by 2030, this regenerative agriculture commitment can have a meaningful impact on the environment. This is how we address the climate crisis, while bettering economic prospects for farmers, the true heroes of our food system.
Reducing the strain raising animals has on our climate is also a priority. Cargill and Zelp are joining forces to distribute wearable technology to catch cows' burps. The innovation can potentially reduce livestock methane emissions by up to 53%.
When it comes to protecting our natural resources, we can't forget to chart a course for more sustainable oceans. As seafood consumption rises globally, farmers are focused on ocean stewardship. With SeaFurther Sustainability, they are connected to novel ingredients, such as insect meal, to create more sustainable feed and improve fish welfare.
While consumption of traditional protein also rises, farmers and ranchers are committed to making its production more sustainable.

Producing sustainable food options for customers and consumers
Increasing demand for sustainable and nutritious foods, and advancements in the alternative protein market, are driving the need for innovations that align to consumer values.
Pea protein delivers a plant-based protein option while benefitting the land. As a cover crop, peas prevent weeds and erosion, control pests and improve soil fertility. Our Food Innovation teams are bringing pea protein to customers, while also working on rapid development of other plant and cell-based options.
But we aren't resting there. While consumption of traditional protein also rises, farmers and ranchers are committed to making its production more sustainable.
BeefUp Sustainability was created as part of our Scope 3 commitment to reduce greenhouse gas by 30% by 2030. In partnerships with customers including Burger King, McDonald's, Nestle, Sysco and Target and NGOs and community groups including the World Wildlife Fund, The Nature Conservancy, The Walmart Foundation and Ducks Unlimited, we are scaling grazing, feed and food waste programs with farmers and ranchers.
From farm to fork, moving food sustainably
To complete a sustainable food system, there is an urgent need to efficiently move food from where it is produced to store shelves and family tables. There is an urgent need to make all forms of transportation more sustainable, from truck to rail to barge.
The industry is collectively working to reduce emissions in ocean transportation. There is potential in bringing wind propulsion technology to commercial shipping. One Cargill project will have BAR Technology's large, solid wing sails fitted to the deck of bulk cargo ships to harness the power of the wind and reduce CO2 emissions. Our partnerships with leading organisations like Maersk Tankers and the Global Maritime Forum bring together the best minds to drive the decarbonisation of shipping.
Ultimately agriculture needs sustainable supply chains if we are to feed the world's population and deliver on the United Nations' Sustainable Development Goals. Agriculture was humankind's first and most important technology. We believe this is the industry's opportunity to show that agricultural innovation is how we can feed the world responsibly while acting as stewards of the earth.