Origins
Cargill is relentless in our effort to obtain the best quality cocoa and chocolate products, consistently and sustainably.
To achieve this, we influence and are present at every step in the chain. Our quest for quality begins with the farmer, continues in our factories and does not end until we have delivered the final product to our customer.
Cocoa bean sourcing operations
Our own teams man the upcountry buying stations in the cocoa-producing countries, working closely with co-operatives and buying beans directly on the local market.
Crop forecasts and market information
Our crop research teams travel extensively throughout the cocoa growing regions constantly monitoring crop growth and quality, checking for diseases, and providing us with the latest independent crop forecasts and market information to deliver key insights that benefit our customers.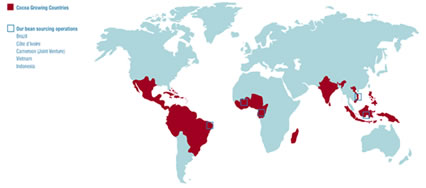 Some Cargill products are only approved for use in certain geographies, end uses, and/or at certain usage levels. It is the customer's responsibility to determine, for a particular geography, that (i) the Cargill product, its use and usage levels, (ii) the customer's product and its use, and (iii) any claims made about the customer's product, all comply with applicable laws and regulations.