Healthy pets: 3 ways we care for your companions
Read Time: 4 minutes
September 04, 2023
Furry companions have been with us since prehistoric times, records show. Today, people around the world own millions of warm-blooded pets — dogs, cats, birds and small mammals.
But a lot has changed since humans started domesticating animals.
Gone are the days when dogs lived in the backyard and cats were cared for by neighborhood strangers. Now, companion animals — think dogs, cats, horses — have often become members of the family, says Maribel Psara, global category pet lead for Cargill's animal nutrition & health business.
"That status has paved the way for pet owners to treat their animals with as much care and attention as any other relative," Maribel says. "Pets have undergone a 'humanization' process as the role dogs and cats play in our lives transcends the term 'pet.' Their needs have evolved, and their lifestyle has changed.
"Not only do consumers have needs in terms of ingredients and benefits, but also in the increased quality and overall well-being expectations."
Pet care continues to evolve, too — including tailor-made solutions like human-grade food, gut health and precision nutrition. Cargill is evolving with it. Below are three ways we're helping keep your beloved companions healthy and happy.
No. 1: Healthy gut = healthy pet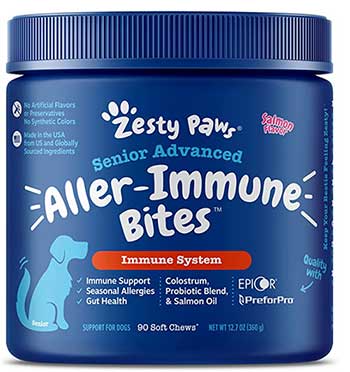 Zesty Paws, a pet consumer packaged goods company, uses Cargill's Epicor postbiotic in its immunity bites for dogs. Julie Gasper is in the business of helping pets — and their owners — feel at ease.
How? Through gut health supplements additives designed to strengthen animals' immune systems, says the Cargill animal nutrition pet and lifestyle additives category lead.
These supplements additives consist of postbiotics that are healthy for the belly. Their popularity with humans has grown in recent years — and so has interest in them for pets.
"
"We've seen the data that people who take supplements are more likely to give them to their pets. It has become more mainstream. And we know from extensive cat and dog research that postbiotics support pet health through the microbiome when used on a daily basis."
Together, these consumer and research insights are helping Cargill bring products to fur moms and dads around the world. In North America, Cargill's Nutrena Loyall Life and Black Gold brands have designed TruMune® postbiotic as part of the pet food diet. TruMune is a natural (as defined by AAFCO) health product that provides everyday immune protection, promotes healthy gut bacteria and digestion, and supports overall pet vitality.
Another example is Cargill's EpiCor, a postbiotic supplement additive filled with metabolites (like proteins, vitamins and minerals) to support the body's immune system. Although EpiCor was developed for the human supplement market, pet parents' desires for the same quality and health benefits for their companions resulted in this human product being used for pet products as well.
Zesty Paws, a leading pet consumer packaged goods company and a customer of Cargill, was the first major brand to use the EpiCor in a pet supplement. Animal Biome — the world's largest database for pet microbiome research and development and a Cargill partner — is now doing the same.
No. 2: Not just food. Manufacturing excellence, too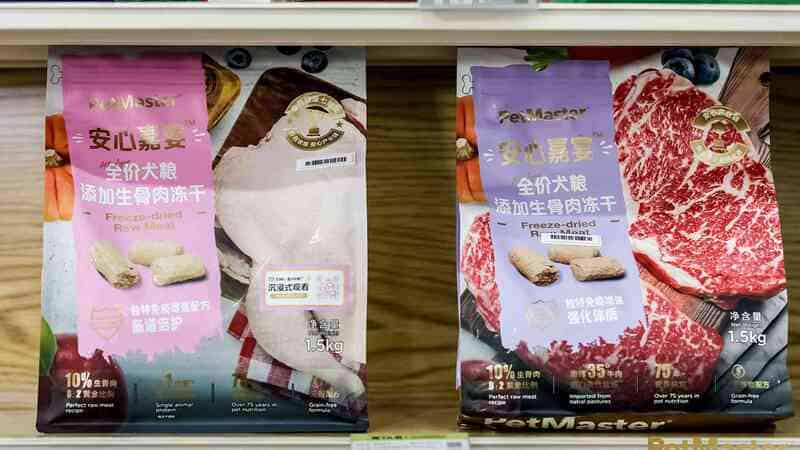 Offering premium pet food products comes with supply chain logistics. And that's where Cargill shines.
"Not only are we developing a variety of food options to meet the needs of pets around the world," explains Maribel, "but we also have 130 years of expertise in animal nutrition and health, state of the art manufacturing capabilities, and a rooted commitment to innovation that sets us apart from competitors."
We recently opened our second pet food plant in China — the first of its kind dedicated to producing high-quality fresh pet food for PetMaster® in the region.
The facility's high-tech tools are ensuring we meet high standards for premium pet food production including:
New Process Control Systems (PCS) that automatically trace production lines ensuring safety and visibility to all products
An energy-saving equipment and management system that allows real-time energy monitoring while reducing greenhouse gas emissions
An integrated quality management system requiring adherence to strict standards and regulations under Cargill's global quality standards
"The completion of the new plant marks a new starting point for us to continue innovating and launching new products that cater to market demand and address the pain points of pet owners, with a focus on precise nutrition," says Hongfei Zheng, president of Cargill's North Asia animal nutrition business.
A starting point in a growing category. As demand for fresh meat offerings soars, Cargill is applying its 75 years of experience in the global pet market to meet the needs of pet owners today.
No. 3: Food fit for pets (and humans, too)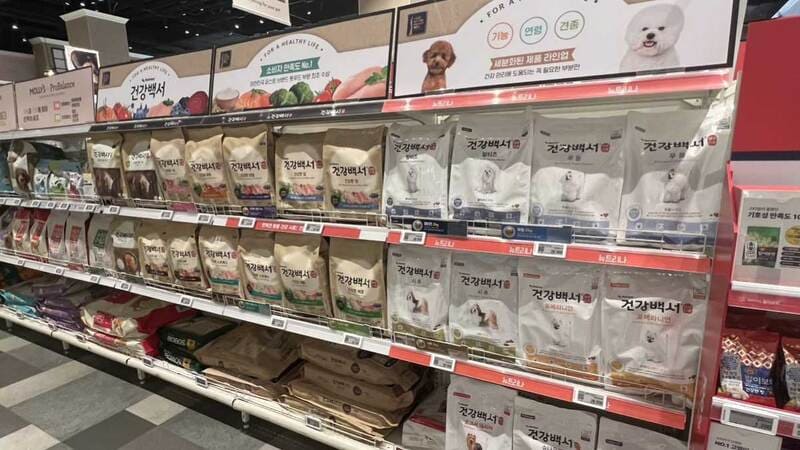 Our pet food partners represent 80% of the industry.
Cargill produces premium pet food for companies and consumers around the world. In countries like South Korea and China, you can find these brands stocked in large retailers like South Korea's E-Mart.
"It's exciting to see the momentum and new innovation coming through!" Maribel exclaims.
One of those brands is Nutrena Healthpedia, a cat and dog food product that offers human-grade, familiar ingredients like rice, corn and whey protein. Another is PetMaster®, a dog and cat food brand that recently launched in China a freeze-dry line for felines made from Cargill Protein's Chicken.
It's important to pet owners: Recent shows that super premium, protein-packed and gut-healthy foods are now a must — and more than half of consumers report they look for products that will meet their pets' nutritional needs while providing high-quality and recognizable ingredients.
"
"Cargill's unique "Farm-to-Bowl" position has what it takes to drive the category forward: a unique blend of science and technology on a Global scale, coupled with animal nutrition and healthcare expertise and the ingredients you can really trust. Our network of pet scientist and innovation experts work across the globe to deliver industry-leading nutrition and health solutions that will continue to help pets thrive."
A sweet mooooove: How Cargill upcycles Hershey's leftover chocolate into (nutritionist-approved) feed for cows
When Hershey approached us in 2011, we took on the company's waste stream and began turning it into animal feed.
[]/[]
Cargill's commitment to animal welfare is 'non-negotiable.' Our values affirm it — and so does a new ranking.
Cargill earns Tier 2 ranking in the Business Benchmark on Farm Animal Welfare report for sixth year in a row.
[]/[]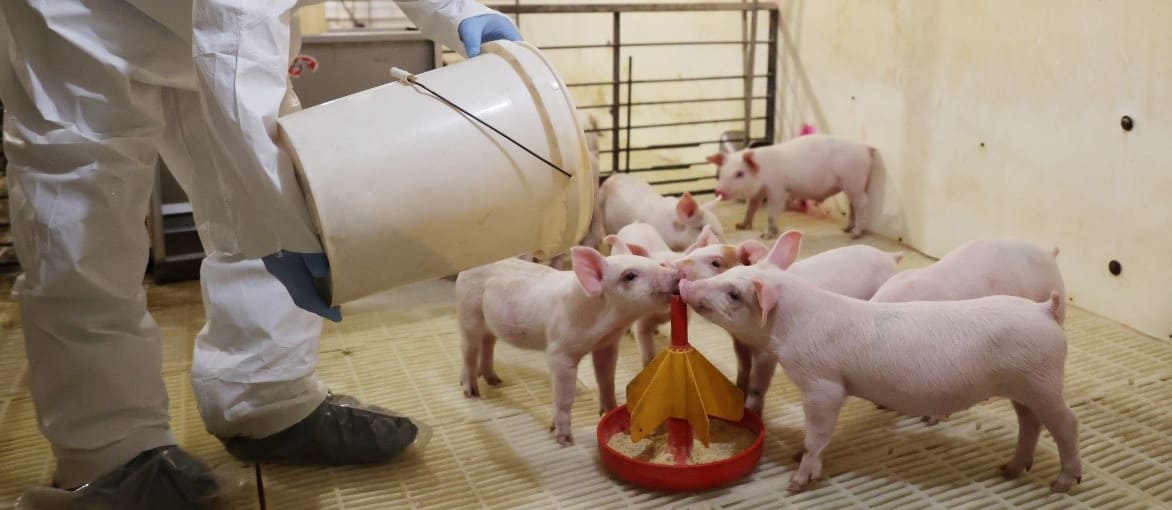 Insects, algae oil and plants: 3 ways Cargill is helping feed animals more sustainably than ever
Across our animal and aquaculture feed business, sustainability is the name of the game
[Latin America]/[Colombia]