Ruth Kimmelshue
About Ruth
Ruth Kimmelshue leads Cargill's animal nutrition and health business, making her the first woman to lead one of Cargill's five global enterprises. With 20,000 employees in more than 40 countries, the animal nutrition and health enterprise leverages insights and innovation to provide livestock and aquaculture farmers, feed manufacturers and distributors the right solutions for the animals they raise. The business portfolio includes global research capabilities, innovative feed and premix products and services, and digital solutions.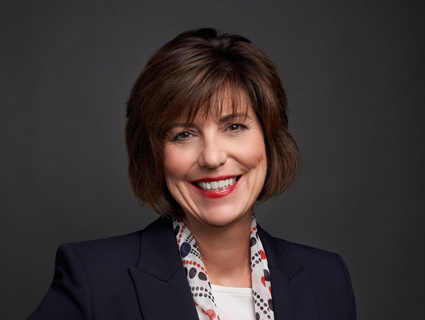 A member of Cargill's Executive Team since 2015, Ruth most recently built and led Cargill's global operations and supply chain organization and served as the company's first-ever chief sustainability officer. In addition to sustainability and corporate responsibility, she also had accountability for Cargill's research and development organization and the communications function.
During her more than 20-year career with Cargill, Ruth has served in numerous leadership roles in a variety of businesses, including animal protein, salt, turkey and cooked meats, and agriculture supply chain. Ruth is known for bringing a people-first approach to leadership and believes in pushing herself and her team to continuously improve as they work to execute a customer-driven business model.
Ruth began her career at Continental Grain, where she held roles throughout the United States and in Europe, spanning merchandising and trading, facilities and general management, economic analysis, and marketing and sales. Continental Grain's grain merchandising and trading business was acquired by Cargill in 1999.
Ruth currently serves on the board of H.B. Fuller Company and is a trustee for Luther Seminary. She holds a bachelor's degree in international relations and a master's degree in agricultural economics from Stanford University.
Ruth lives in Minnesota with her husband and three children.