News
Meet Shawn Wilczynski, Mine Manager – Deicing Technology, Cargill – Lansing, NY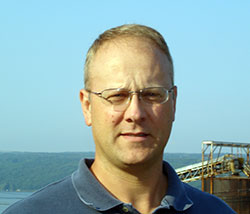 Shawn is originally from South Dakota and is a proud husband and father. He spent 6 years in the Navy Nuclear Power Program and has 19 years of mining industry experience including 16 with Cargill. While at Cargill Shawn gained experience at all 3 Cargill mining operations with 11 years at the Cayuga Mine. Shawn has a passion for employee/personal development and is a board member of the Science Center and Lansing Corporate Development Committee which raises money to support technology in Lansing schools. Since returning to Lansing in September of 2013 as the Plant Manager, the volunteer rate for employees supporting the local communities has improved from 50% to 67% with significant contributions to many local charities. Shawn's efforts continue the high safety standards which the Cayuga Mine is known for, and new safety records are the result.
Safety Counts at Cargill!
The Cayuga Mine celebrated 5 years with no Lost Time Accidents in late March and has now gone over 1900 days without Lost Time Accident. That equates to over 2,038,000 safe work hours, one of the best records in the mining industry.
Contact Information