Vital Wheat Gluten in Plant-based Alternatives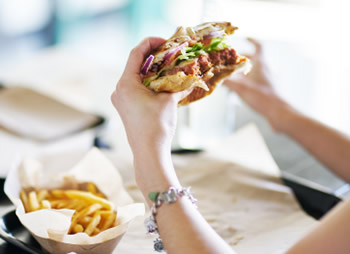 Vital wheat gluten is a protein-rich, plant-based ingredient that is finding its way into plant-based meat alternatives, as developers discover how its high protein content and functional benefits can make valuable contributions to their formulations.
Vital Wheat Gluten
With plant-based eating firmly rooted as a mega-trend, consumer demand for innovative and satisfying choices continues to gain momentum. Cargill vital wheat gluten can help you create satisfying and delicious plant-based products.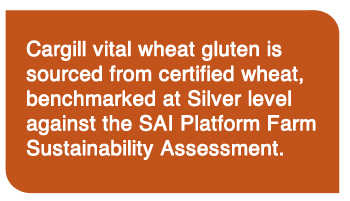 Also known as wheat gluten, vital wheat gluten is produced by hydrating wheat flour to activate the gluten (the main protein in wheat), then extracting everything but the protein. The result is a protein-rich, exceptionally useful ingredient for bakery, meat alternatives and beyond.
Label-friendly:
Minimum 75% protein content
Sustainably sourced
Supports vegan / vegetarian formulation*
Non-GMO available**
Versatile functionality:
Neutral flavor profile enables a wide range of product formulations
Enhances moisture retention and mouthfeel
Supports texturizing and binding; offers excellent extrudability
Improves dough texture, elasticity in bakery
Contributes to crumb structure and bread volume
Economical source of protein enrichment
Applications:
Bakery
Meat / Meat Alternatives
Pasta
Pet Food
Snacks / Cereals
Sports Nutrition
Contact us today for more information or to request a convenient sample.
DISCLOSURES:
*The USA FDA has not defined vegetarian or vegan. The ingredients are made from plant-based materials and have not been produced from animal (including fish), dairy, or egg products, nor have those products been added to the ingredients.
**There is no single definition of "non-GMO" in the USA. Contact Cargill for source and processing information.
Vital Wheat Gluten Product Overview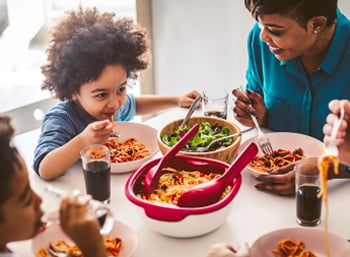 The converging trends of increased protein and plant-based eating are creating fertile ground for innovation in functional, plant-forward products. Learn how vital wheat gluten can help.
Download
A Bakers Hero - Vital Wheat Gluten
Vital wheat gluten brings unparalleled function to bread products – plus offers an affordable source of plant-based protein.
Download
Some Cargill products are only approved for use in certain geographies, end uses, and/or at certain usage levels. It is the customer's responsibility to determine, for a particular geography, that (i) the Cargill product, its use and usage levels, (ii) the customer's product and its use, and (iii) any claims made about the customer's product, all comply with applicable laws and regulations.