Our Stakeholders
As a global supplier of feed for aquaculture and a critical part of the seafood supply chain, we interact with a highly diverse range of stakeholders. This highlights both the complexity and the importance of connectivity in our business.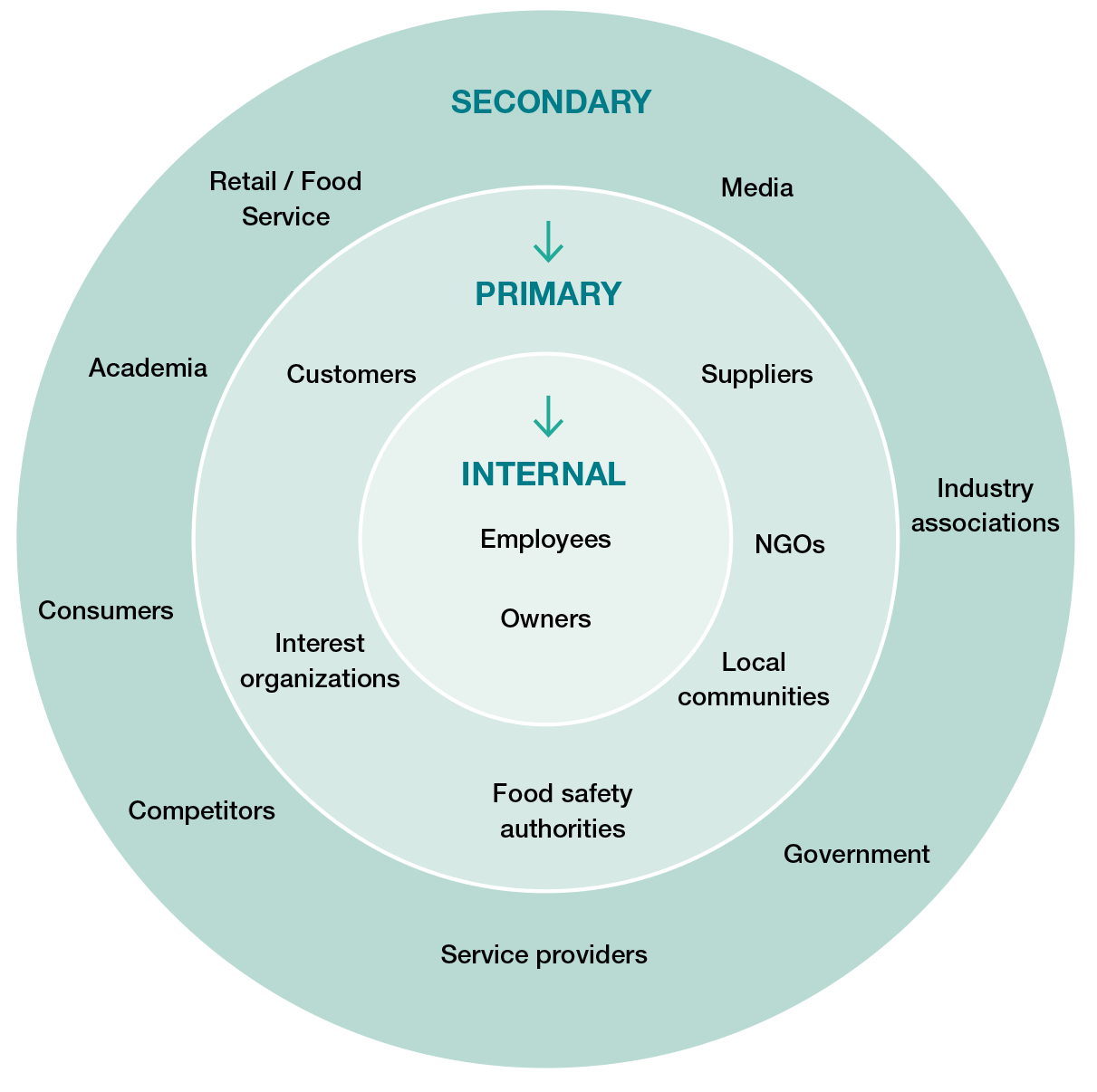 Our approach to stakeholder engagement is to concentrate on entities or individuals that can reasonably be expected to significantly affect or be affected by the organization's activities, products, or services; and whose actions can reasonably be expected to affect the ability of the organization to successfully implement its strategies and achieve its objectives.
Engaging with Stakeholders
Our key stakeholders are suppliers and customers, and these are clearly identified on a global and local level. We meet and communicate with stakeholders every day, and information from this is fed back into the organization at different levels as required. In addition, through a review of stakeholders' issues and feedback from the communities in which we operate, a stakeholder map was developed.
Internal Stakeholders
Dialogue with employees is continuous, through well-established local management structures and practices. Employee relations are comprehensively regulated by law. We apply common standards and values across our operations, exemplified by our GreenBook and ethical guidelines. In addition the Cargill Leadership Expectations were introduced in 2016 and these clearly set out the behaviors expected of our employees. The competence, engagement and efforts of all employees are crucial to the success of our business.
Primary Stakeholders
We have direct relationships with our customers, providing advice and services, and arranging local and regional customer conferences. Regular contact and technical reviews with customers ensure that we are well aware of and well positioned to attend to their specific needs and concerns. We also take part in customer associations, particularly the Global Salmon Initiative (GSI) where we can engage with many parties at once. We are increasingly engaged with independent third party certification schemes for feed and seafood.
Suppliers of feed raw materials are of key importance to us. A particular priority has been working with suppliers of marine ingredients where quality, safety and nutrition, as well as sustainability of the fisheries stocks, are addressed. If suppliers are not compliant with our standards for ethics and corporate social responsibilities, we will as a first step work with the supplier to obtain improvements based on a supplier development plan.
The emergence of voluntary standards for feed and fish producers has impacts across the supply chain. Such standards are often promoted publicly and so become demanded by food service and retail sectors. We participate in meetings and conferences with supplier communities, e.g. fish oil and fishmeal producers, to further enhance responsible sourcing – with a special focus on efficient use of by-products. We also engage with key third party certification bodies to share knowledge and assist in the development of aquaculture standards. In 2017, we joined a a Fisheries improvement Project (FIP) in Peru, aiming to assist the transition of the fishery and fishmeal factories to the certification standards of IFFO RS and MSC.
Cargill Aqua Nutrition is represented on the Technical Committee for the development of the ASC feed standard, and regularly participates in IFFO meetings and Sustainable Fisheries Partnership (SFP) roundtables on fishmeal and fish oil in Europe and South America. Furthermore, we engage with the organizations supplying certificates on soy and palm oil products, such as RTRS, ProTerra and RSPO. Within animal welfare, we are reconnecting with the Royal Society for the Prevention of Cruelty to Animals (RSPCA) in the UK. We have previously assisted in the development of their RSPCA Assured (previously Freedom Food) standards, which are the highest welfare standards for farmed animals globally.
The NGO community working towards aquaculture is diverse, but focuses mainly on the impacts of raw material sourcing and application of feeds on farms. However, the number of NGOs working on social issues within aquaculture value chains is also increasing. Cargill Aqua Nutrition is selectively concentrating on those NGOs that seek constructive improvements in the industry. This includes wide groups of environmental organizations, labor organization and NGOs dedicated to other relevant topics.
We work with the development of industry standards based on multi-stakeholder involvement where various NGOs are represented. We work to promote social and economic wellbeing of the communities we serve. We work in various communities to ensure access to safe, nutritious, affordable food, to promote economic development, to improve education. We also engage our employees in our efforts to build vibrant, stable operating communities.
Secondary Stakeholders
Cargill Aqua Nutrition sees industry associations necessary for ensuring sound regulatory framework for the aquaculture industry. In Europe, we work with FEFAC, where we hold a seat in the Fish Feed Committee and the Sustainability Committee. This gives access to inputs from organizations from member countries as well as trade organizations impacting the industry.
Cargill Aqua Nutrition is an associate member of the Global Salmon Initiative (GSI), and takes part in the GSI Feed Taskforce and the GSI Communications Task Force. Joint with peers and competitors, we are also engaged in the Seafood Business for Ocean Stewardship. The ambition is to lead a global transformation towards sustainable seafood production and a healthy ocean. The initiative will actively contribute to the United Nations Sustainable Development Goals (SDGs), and in particular Goal 14: Conserve and sustainably use the oceans, seas and marine resources.
Authorities and politicians are stakeholders at the local, regional and national levels who define the framework conditions for the industry. However, most other stakeholders expect us to perform and develop beyond legislated minimum standards. We actively engage with authorities and politicians, and take part in an open dialogue or information exchange to support the development and application of legislation as well as the development of our business. We believe transparent dialogue is a prerequisite for arriving at good and balanced decisions.
While we are a business-to-business organization, the feed supply chain is part of what shapes the reputation of the aquaculture industry and of farmed seafood. We strive to be transparent about what we do and how we perform, using dialogue, regular sustainability reporting and our web site to bring this information to the general public.
The retail and food service sectors are key to influencing consumers and the general public. If our sustainability activities are not communicated to these sectors, the end customer or potential customer will never be aware of our work. We are developing programs to address how to communicate on multiple issues at many levels, but this report is a major contributor to such information.
Major Stakeholder Concerns
The sourcing of soy protein concentrate from Brazil continued to be an area of concern for our stakeholders in 2016. The concern is linked to the association of soy with deforestation of the Amazon and Savannah regions.
Cargill has made an important commitment with the New York Declaration on Forests to do its part to end deforestation, endorsing the timeline to cut natural forest loss in half by 2020, and strive to end it by 2030. Cargill also backs the extension of the soy moratorium in the Brazilian Amazon Biome indefinitely, while the Forest code is fully launched.
As set forth in our Responsible Raw Material Sourcing Policy, Cargill Aqua Nutrition is committed to using deforestation free raw materials and to the New York Declaration on Forests. We will source soy products from Brazil, our main supplier, that are certified to ProTerra, RTRS or equivalent. Use of soy products from other countries can be approved given evidence that they are responsibly sourced or that the suppliers have development programs in place to achieve credible third-party certification.
The Aquaculture Stewardship Council (ASC), currently requires all soy to be certified to RTRS or ProTerra by June 2017. However, there are discussions to enable other schemes to be used where the risk of deforestation is lower, to remove the pressure from Amazonian sources of soy.
Cargill Aqua Nutrition Sustainability Report 2017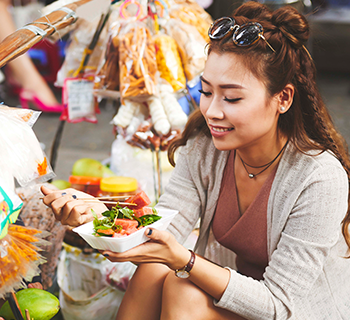 The Cargill Aqua Nutrition Sustainability Report 2017, constitutes the sustainability performance for the calendar year 2017.
Download