SweetPure™ M Wheat & Barley Malt Syrup
Today's consumers want it all. Simpler labels and less processed foods, made with recognizable ingredients are a priority. At the same time, consumers are adjusting their taste profiles, opting for more balanced and less overtly sweet products.


SweetPure™ M Wheat and Barley Malt Syrup offers similar functionality to a syrup high in maltose but is a more recognizable, label-friendly ingredient. Obtained from the treatment of wheat starch with barley malt, SweetPure™ M is only mildly processed and meets ISO natural definition.
Thanks to its mild sweetening properties, medium viscosity, grainy taste and color, it's a perfect fit for bakery and cereal applications.
Label-friendly ingredient
A nature-derived syrup from wheat and malted barley which answers consumers' need for recognizable, less processed ingredients.
ISO natural definition
Undergoing only mild filtration, SweetPure™ meets ISO natural definition, and is fit for use in end-products wanting to make a natural claim.**

* ISO/TS 19657:2017 ( https://www.iso.org/news/ref2254.html )
** Customers are in charge of how to communicate on naturality (depending on the country & their own policies).
SweetPure™ has proven performance in biscuits, coating for cereals and as a binder in cereal bars.
Characteristics
60% declarable sugars
Medium viscosity
Medium relative sweetness
Calories
Full-calorie sweetener (4 kcal/g), providing energy for body and brain.
Production process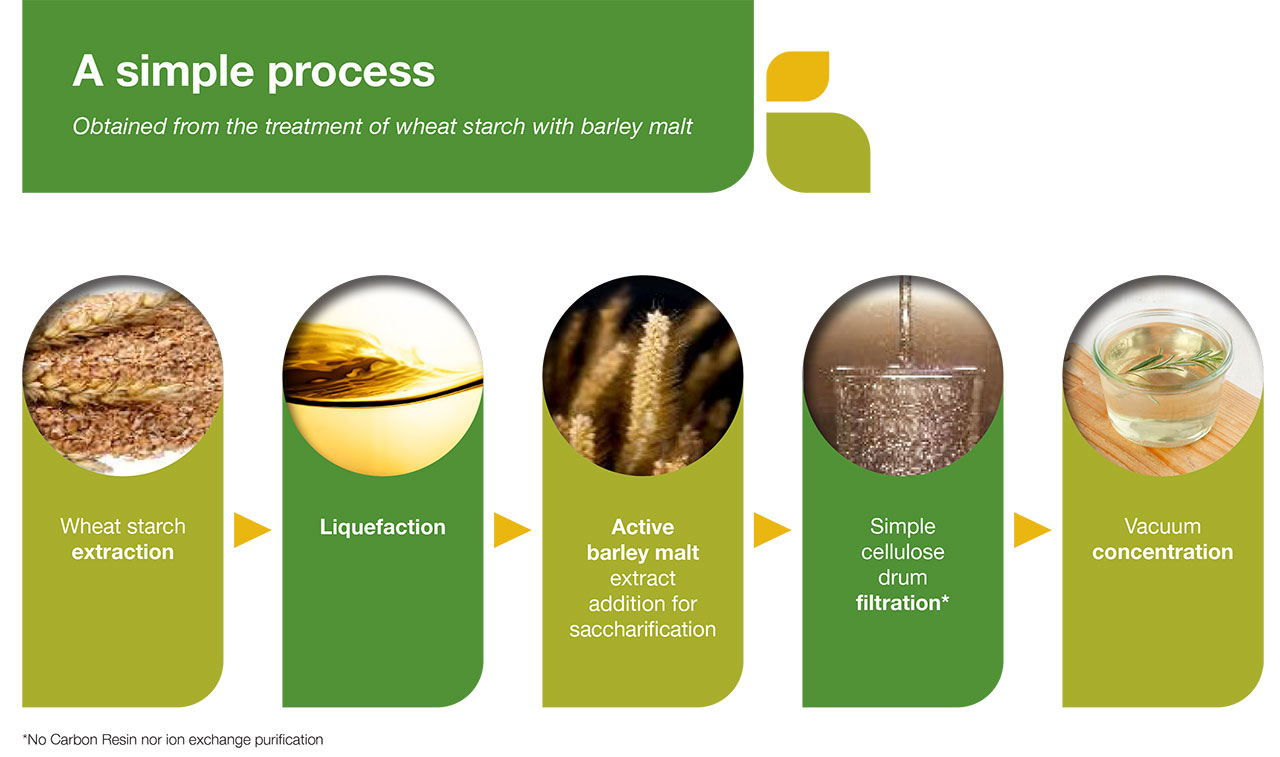 EU Labeling & Legislation
Wheat & barley malt syrup is regulated under the EC Directive 2001/111/EC relating to certain sugars intended for human consumption.
We recommend including wheat and barley malt syrup in the ingredient declaration on the labels of finished foods and beverages.

Some Cargill products are only approved for use in certain geographies, end uses, and/or at certain usage levels. It is the customer's responsibility to determine, for a particular geography, that (i) the Cargill product, its use and usage levels, (ii) the customer's product and its use, and (iii) any claims made about the customer's product, all comply with applicable laws and regulations.