High Intensity Sweeteners
Consumers worldwide are tempering their love for sugary foods in response to health recommendations to limit calories from added sugars. At the same time, there's growing interest in recognizable ingredients that are closer to nature.
A natural fit for stevia: Stevia is a plant (specifically, a member of the chrysanthemum family) native to portions of northeastern Paraguay. The stevia plant contains sweet components called steviol glycosides that are up to 300 times sweeter than sugar.
Stevia-based sweeteners have quickly become the favorite high-intensity sweetener as they have proven to be a useful, heat-stable, zero-calorie ingredient for a wide range of applications.
However, higher usage levels proved challenging – until Cargill harnessed the unique interactions between the steviol glycosides, opening the door to new innovation.
Cargill scientists have spent over 300,000 hours studying the unique properties of the stevia leaf. Our broad portfolio of stevia sweeteners, proven formulation expertise and deep market insights translate into your competitive advantage. A rigorous specification process ensures consistent product quality – regardless of growing season – for your end-products.

Stevia Benefits
Sugar Reduction: Enables sugar reduction of 50% and more, even in challenging applications.
Label-friendly: Derived from the best tasting components of the stevia leaf, stevia-based sweeteners delivers the recognizable, nature-derived ingredient consumers look for.
Cost-effective: Reduces the need for masking agents, while our formulation experts help you meet cost-in-use goals.

Product Offer
Derived from the high purity, potent Rebaudioside A of the stevia leaf, Truvia® delivers 30% or higher sugar reduction.
[EMEA]/[]
Leveraging the best tasting steviol glycosides from the leaf, in optimal combinations, ViaTech® delivers 50% or higher sugar reduction.
[EMEA]/[]
Production Process
Meet the stevia plant. The proud parent of our nature-derived sweetener. People have been sweetening foods and beverages with stevia leaves for hundreds of years. Stevia is a plant (specifically, a member of the chrysanthemum family) native to portions of northeastern Paraguay. The taste comes from natural ingredients from the leaves called steviol glycosides. Our stevia leaf extracts are comprised of the best tasting steviol glycosides.
Making stevia leaf extract: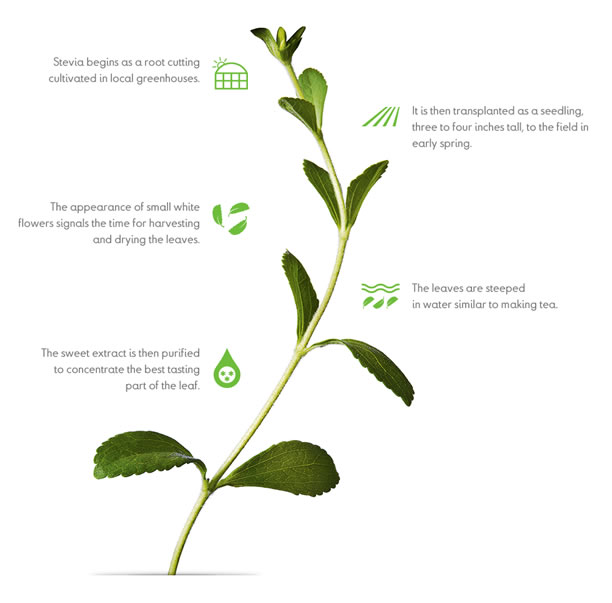 Glossary of Terms
Term
Description
Stevia
General term used to refer to the plant and commercially to food uses of Stevia rebaudiana Bertoni (botanical name)
Steviol glycosides

Sweet tasting components in leaves of the stevia plant

The leaf contains at least 10 unique steviol glycosides including rebaudioside A, stevioside, rebaudioside C

Rebaudioside A

Predominant steviol glycoside

Also referred to as 'RA.' 'reb A,' or 'rebiana'
Purified from the leaf, it provides a clean, sweet taste

Stevia leaf extract

Refers to compounds isolated (extracted) from stevia
EU Labelling
COMMISSION REGULATION (EU) 2021/1156 of 13 July 2021 amending Annex II to Regulation (EC) No 1333/2008 of the European Parliament and of the Council and the Annex to Commission Regulation (EU) No 231/2012 as regards steviol glycosides (E 960) and rebaudioside M produced via enzyme modification of 'steviol glycosides from Stevia (E 960a)'.
Steviol glycosides from Stevia is allowed to be used in energy-reduced foods and beverages or foods and beverages with no added sugars at specific maximum limits.
For restrictions and exemptions laid down in the Regulation, the following definitions apply;
'Food with no added sugars' means a food without the following:
(i) any added monosaccharides or disaccharides;
(ii) any added food containing monosaccharides or disaccharides which is used for its sweetening properties.
'Energy-reduced food' shall mean a food with an energy value reduced by at least 30 % compared with the original food or a similar product.