SimPure™ Soluble Rice Flour
Label-friendly Alternative to Maltodextrin
Award-winning innovation
SimPure™ Soluble Rice Flour has been recognized with a 2023 Silver Edison Award™ for innovation in Food and Agricultural Advancements. Learn more about the awards.
More and more, ingredient familiarity matters. SimPure™ 92260 harnesses one of nature's most traditional botanical sources – rice – to create a label-friendly alternative to maltodextrin.
Simplicity + ingenuity
Traditional rice flours aren't very soluble, but Cargill technology overcame that hurdle to create a highly soluble rice flour with performance comparable to maltodextrin.
One-to-one substitution for 10 DE maltodextrin in a variety of applications
Similar viscosity, sensory and bulking performance to maltodextrin; adds creamy mouthfeel in some applications
Positive consumer perception of soluble rice flour, validated through research*
Label-friendly formulation
Familiar Ingredient
Gluten-free
FDA GRAS Letter of No Objection
Project Non-GMO Verification Pending
Applications
Beverages (Powdered)
Bakery
Convenience Foods: Sauces & Dressings, Seasoning Mixes
Dairy
Flavor Carriers
Snacks
See more from the SimPure™ Portfolio
* Source: Cargill IngredienTracker, 2021.
Soluble Rice Flour - A label-friendly alternative to maltodextrin
When it comes to food ingredients, names matter. Today's consumers scrutinize ingredient lists before purchasing new packaged foods and beverages, avoiding products made with unfamiliar ingredients. Learn about our label-friendly alternative to maltodextrin.
Download
Cargill develops rice-based maltodextrin alternative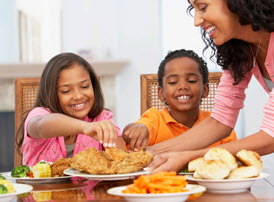 With customers clamoring for a more label-friendly alternative, Cargill challenged its food scientists to uncover a consumer-pleasing, but easy-to-use replacement. The result was SimPure™ RF 92260, a soluble rice flour.
Download
SimPure Soluble Rice Flour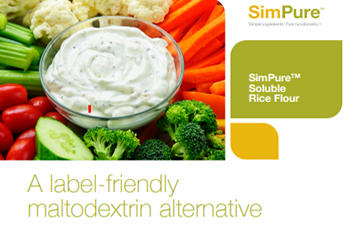 Learn about this innovative, label-friendly alternative to maltodextrin.
Download
Some Cargill products are only approved for use in certain geographies, end uses, and/or at certain usage levels. It is the customer's responsibility to determine, for a particular geography, that (i) the Cargill product, its use and usage levels, (ii) the customer's product and its use, and (iii) any claims made about the customer's product, all comply with applicable laws and regulations.