Wheat Protein
Wheat proteins help supply the body with essential amino acids that it cannot synthesize on its own. Beyond nutrition, these affordable, plant-sourced proteins provide functional benefits, yet their neutral flavor profile makes them easy to incorporate into a variety of food and animal feed systems.
Competitive cost-in-use
Highly digestible
Unique visco-elastic properties
Neutral flavor profile
Sustainably sourced
Our Wheat Assets
Cargill has a footprint of 10 starches and sweeteners plants in Europe and Russia using wheat and/or corn as raw material.
With the increasing demand for protein enriched foods driven by the growing world population and changes in consumer diets & preferences, the need for vegetable proteins keeps rising.
As wheat is an important source of vegetal proteins,
Cargill is transforming its Krefeld site in Germany from corn to wheat. Read more about it here.
Wheat Components
Composition
The wheat kernel is divided into three distinct parts that are separated during the milling process: the endosperm, bran and germ. Of these, the endosperm contains the greatest share of the protein.
Several different types of protein are present in the wheat kernel. Insoluble gluten proteins, critical for dough formation, represent about 85% of the proteins available.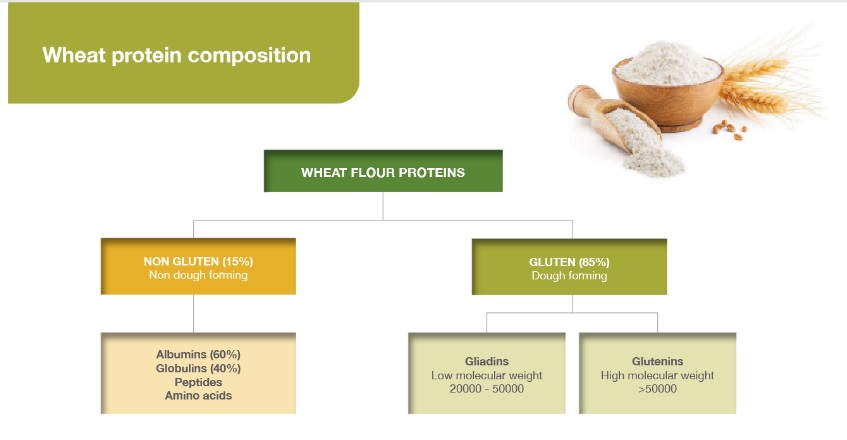 Wheat and gluten quality monitoring
Quality testing
Cargill routinely performs a variety of tests to monitor our wheat and gluten quality. These include:
Gluten Index: Measures gluten strength/mixing tolerance
Alveograph: Indicates gluten extensibility
To determine baking quality and dough performance, we perform additional tests with gluten from our different production units.
Sustainability
Sustainably sourced
Cargill's plant-based proteins are responsibly sourced and can support customer corporate sustainability commitments. For example, we aim to secure wheat grown within 300 km of our European processing plants in order to connect and support farmers and their local communities.
In addition, Cargill offers sustainably-sourced wheat that is externally verified and benchmarked Silver against the SAI Platform Farm Sustainability Assessment, an industry-recognized certification system.
Wheat
These affordable, plant-sourced proteins provide functional and nutritional benefits and can be easily incorporated into a wide variety of food applications thanks to their neutral flavor profile. Cargill's offer includes:
According to EU Regulation (EC) 2073/2005 on microbiological criteria for foodstuffs, wheat protein is not intended for direct human consumption (i.e. not "ready-to-eat") without further processing (e.g. cooking, baking, frying) to eliminate or reduce microorganisms to an acceptable level.
Some Cargill products are only approved for use in certain geographies, end uses, and/or at certain usage levels. It is the customer's responsibility to determine, for a particular geography, that (i) the Cargill product, its use and usage levels, (ii) the customer's product and its use, and (iii) any claims made about the customer's product, all comply with applicable laws and regulations.