Plant proteins
Cargill plant protein solutions satisfy consumers' hunger for protein-enriched and label-friendly foods and drinks
Cargill supplies protein ingredients to customers around the world. Consumer demand for healthier foods continues to drive new vegetable protein product development and growth and this is why we are constantly working on developing new protein ingredient solutions for our customers. In Europe, 55% of consumers said they increasingly incorporated plant ingredients in their diet in 2020 (Source: Innova Consumer Survey, 2020).
Plant proteins can come from different sources, in different types and forms. All have a different impact related to functionality and also in protein content in formulation. It is important to understand how vegetable-based proteins work and interact with other ingredients. We can support you in making the best plant protein selection for your application.
Label-friendly and functional
Cargill's cost-competitive plant proteins help formulators achieve consumer-pleasing taste and mouthfeel, with enhanced nutritional profiles. In today's marketplace, our familiar, plant-based and sustainably grown protein ingredients appeal to consumers seeking label-friendly protein-enriched foods and beverages. All our protein solutions boast a robust protein content and are compatible with vegetarian/vegan diets.
Satisfying and nourishing, protein's functional benefits are being leveraged in virtually all major food and beverage categories. They can contribute to texture, machinability, shelf life and more - making them a valuable addition to product formulas.
Healthy and nutritional
With many benefits, it is no surprise consumers want to add protein to their diet, and manufacturers want to include them in their recipes.
Health and Nutritional claims
In the EU, three health claims* can be considered for proteins**:
Protein contributes to the maintenance of normal bones
Protein contributes to growth in muscle mass
Protein contributes to the maintenance of muscle mass
In the EU, three nutrition claims related to protein may be possible, depending on the quantity***:
Source of protein: A claim that a food is a source of protein, and any claim likely to have the same meaning for the consumer, may only be made where at least 12% of the energy value of the food is provided by protein.
High protein: A claim that a food is high in protein, and any claim likely to have the same meaning for the consumer, may only be made where at least 20% of the energy value of the food is provided by protein
Increased protein: A claim stating that the content in one or more nutrients, other than vitamins and minerals, has been increased, and any claim likely to have the same meaning for the consumer, may only be made where the product meets the conditions for the claim 'source of' and the increase in content is at least 30% compared to a similar product.
* Commission Regulation (EU) No 432/2012 of 16 May 2012 establishing a list of permitted health claims made on foods.
** This information is not intended to be legal advice and may not be relied upon as such.
These claims may be used only for food which is at least a source of protein as referred to in the claim SOURCE OF PROTEIN as listed in the Annex to Regulation (EC) No 1924/2006.
***Nutrition claims are only permitted if they are listed in the Annex of Regulation (EC) No 1924/2006, last amended by Regulation (EU) No 1047/2012.
Our ingredient offer:
In EMEA today, we offer wheat and pea protein to raise nutritional profile by means of protein fortification and for their functional properties. Consumer attitudes toward pea and wheat are positive, with pea protein nowadays being widely recognized and accepted protein and a still rising star.
We offer a versatile range of standard and hydrolyzed pea protein isolates that are rich in high quality protein, mild in flavor, and that do not need an allergen declaration.
We work towards the creation of a more sustainable crop supply for our ingredients, including wheat.
Plant-based products are rising to a whole new level of consumer interest and popularity, while prompting key strides in new product development.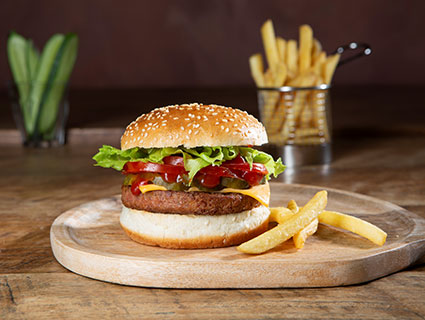 In the news: Cargill invests in Bflike, a catalyst for a new generation of plant-based meat & fish alternatives solutions for our customers.
Mechelen - 22 April 2021. Cargill enters in a join venture with private incubator company Blue Ocean Xlerator NV (BOX), investing in a startup called Bflike, to help our customers bring the next generation of distinctive, cost-effective and scalable plant-based meat and fish alternatives to market. Bflike will accelerate our customers' growth ambitions through a licensing model and offer know-how and cost-efficient premix ingredients largely sourced through Cargill.
Some Cargill products are only approved for use in certain geographies, end uses, and/or at certain usage levels. It is the customer's responsibility to determine, for a particular geography, that (i) the Cargill product, its use and usage levels, (ii) the customer's product and its use, and (iii) any claims made about the customer's product, all comply with applicable laws and regulations.