Milk fat replacers for dairy analogues
Your partner in dairy robustness
Cargill's vegetable oils & fats solutions are enabling sustainable, reliable, cost effective milk fat replacement across the dairy category, without compromise on taste or texture.
Our comprehensive range of sustainably sourced fats, laurics, specialties, liquids, and tailor-made blends delivers excellent performance and flavor, so you can achieve the ideal mouthfeel, structure and nutrition profile in all dairy analogue applications.
Whether you're making analogues to cheese, ice cream, spread, dessert, cream, dairy drink, or dairy powder, we have the right solution for you!

Introducing our oil solutions for dairy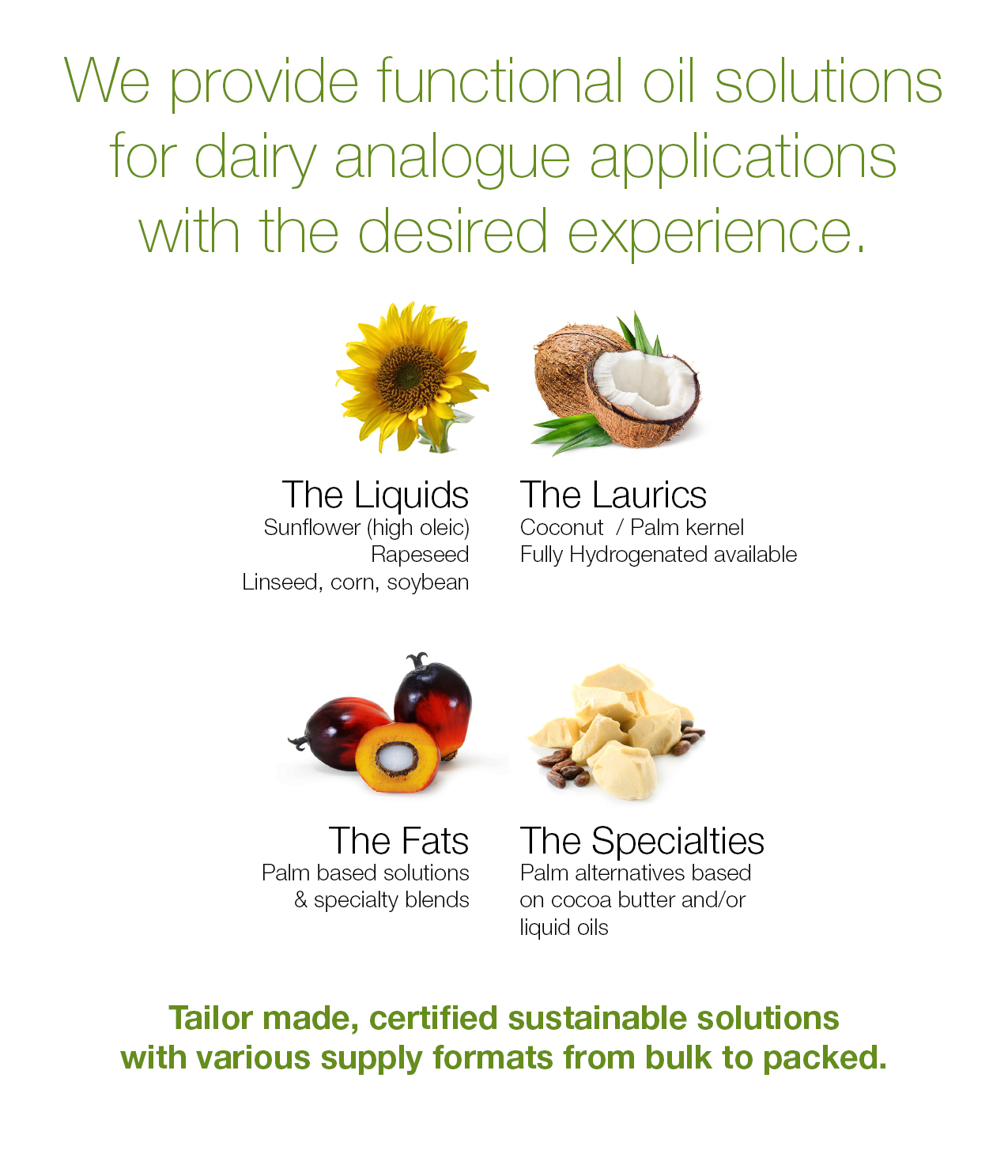 Why we're your robust partner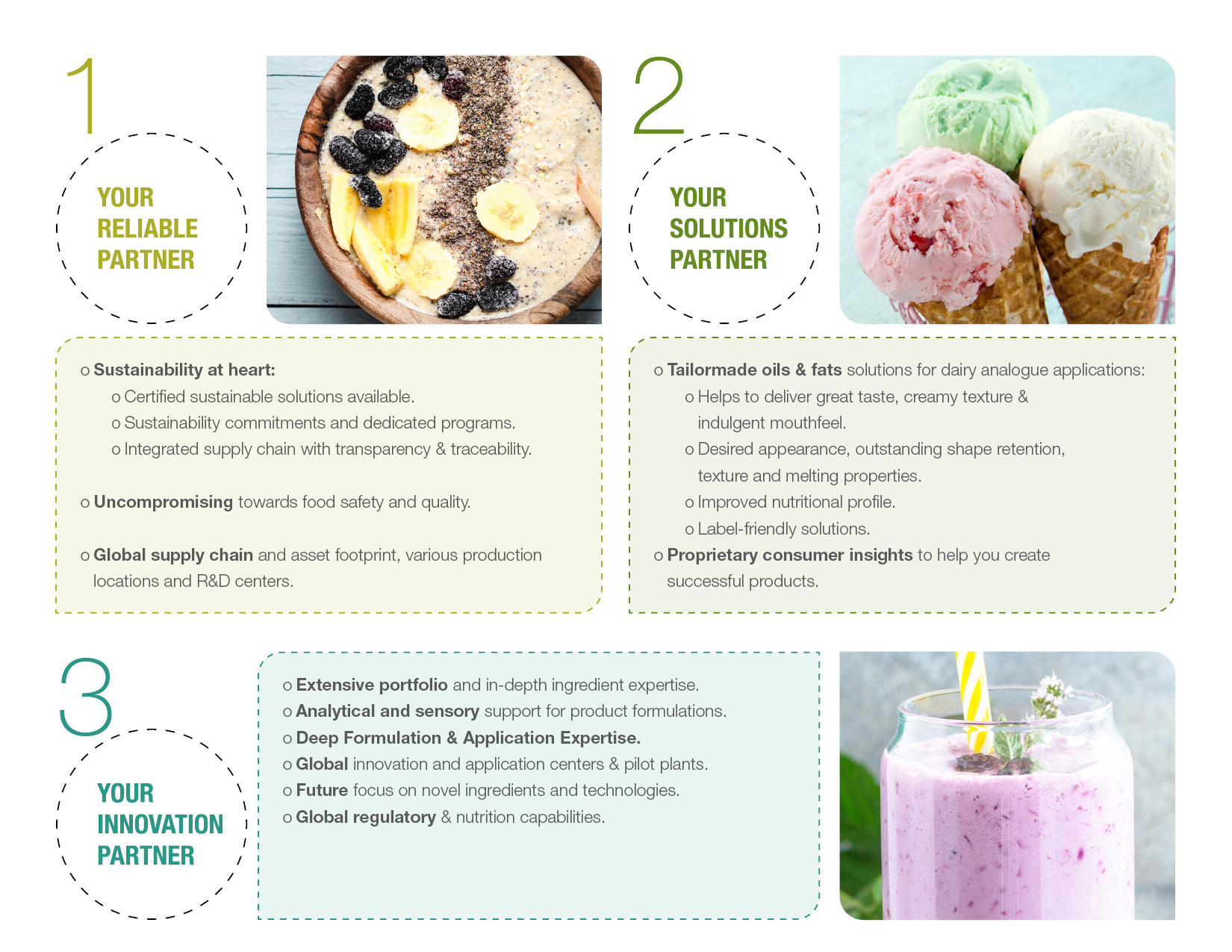 Milk Fat Replacers in target dairy analogue applications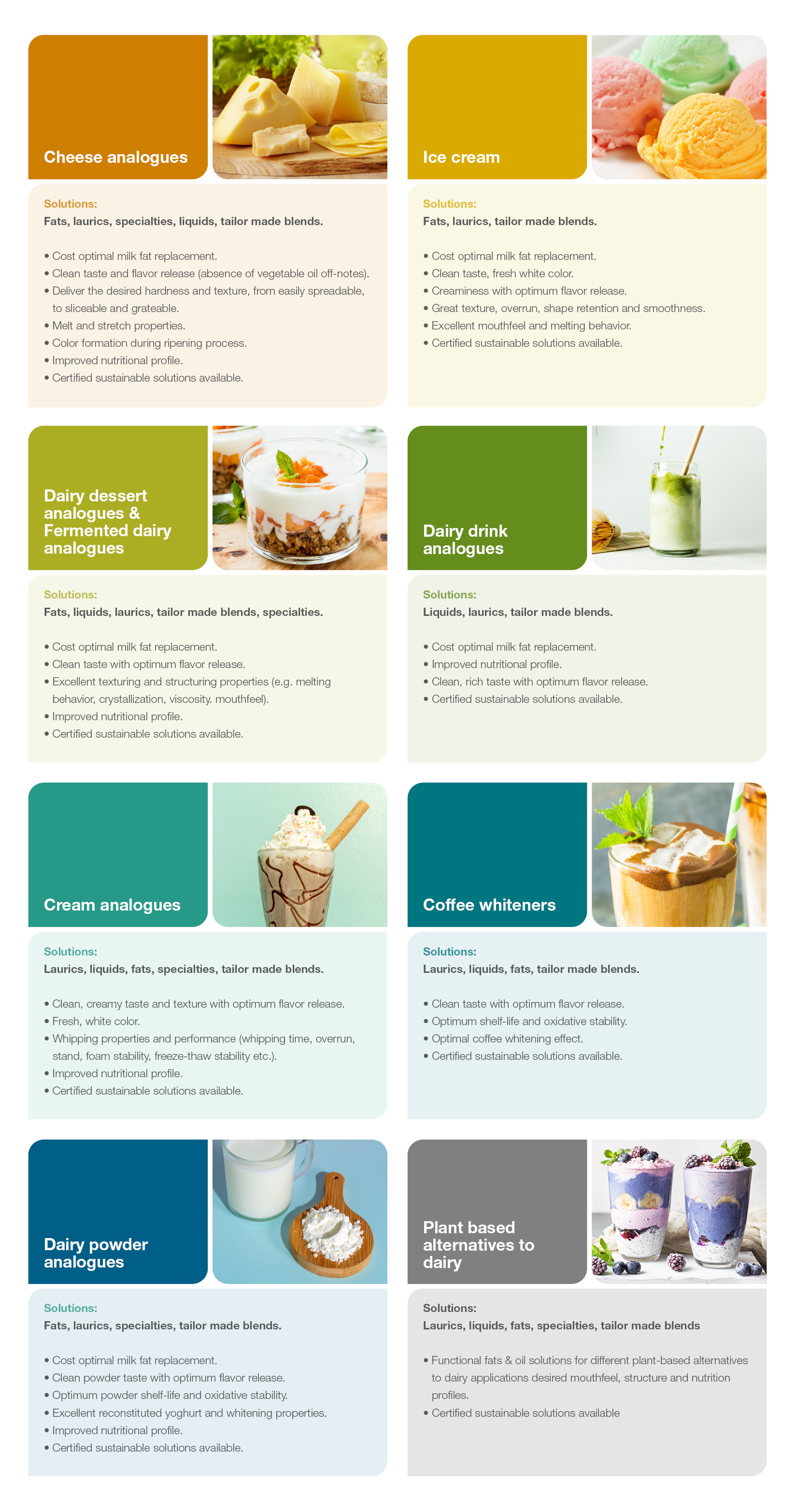 Always on trend for dairy robustness
As your robust partner for dairy product development, Cargill has all the necessary tools and capabilities for classic milk fat replacement. But we're always on top of the latest trends too.
For example, one of today's biggest trends is the rise of hybrid dairy products that fuse dairy and plant-based ingredients together. Hybrid dairy offers the best of the two worlds: a higher plant-based content, but no sacrifice on flavor or texture. By using techniques from our own expertise, we'll work with you on hybrid dairy to truly stand out.
The knowhow and solutions for your next product winner
Changing from milk fat to refined vegetable oils is easier said than done. You need formulation experience to understand how the switch is going to impact the interaction with all the other ingredients.
At our R&D facilities in Baupte, France, and Vilvoorde, Belgium, we've got dedicated applications teams in place, as well as pilot plant lines for all dairy subcategories. Here your innovation needs are approached in a holistic way, by combining solutions from our comprehensive portfolio of ingredients, that includes sweeteners, texturizers, oils, proteins, and cocoa powders.
Our ingredients, formulations, and knowhow enable our customers to deliver the product quality they desire, and processing efficiency. Our understanding of the complexity linked to the multiple ingredients is the key to find the right solution together. 
The right solutions for your next winner
Thanks to our unparalleled ingredient portfolio, broad expertise, and collaborative mindset, we'll help you delight consumers with a portfolio that's tasty, healthy, and nutritious. We're your reliable, solutions-driven, innovation partner in dairy robustness!
Partner with Cargill today and let's create delicious dairy analogues together.