Lecithin
Cargill has a wide variety of lecithin solutions with the highest quality.
This plant-derived, versatile, label-friendly emulsifier seems to do it all. It helps to create and stabilize emulsions, both oil in water and water in oil, while helping to improve texture, mouthfeel and viscosity in a range of applications. In baked goods it helps to improve the machinability, the dough release and moisture retention. In dairy alternatives it enhances the mouthfeeling and in chocolate it helps to adjust the viscosity and reduces the use of cocoa butter. It can serve as a release agent, as a replacement to synthetic emulsifiers, and disperses fat and water-binding ingredients in instant applications. Last but not least, it also provides anti-oxidation for enhanced shelf life.

Lecithin benefits
Label friendly - nature-derived emulsifier with good familiarity, especially for soy
Plant based - sourced exclusively from plants and is available in soy, sunflower and rapeseed (canola)
Broad functionality - good emulsifying and stabilizing properties in various applications, suitable for wide range of consumer products

The offer
Cargill offers an extensive range of lecithin solutions for many different applications. With over 70 years of experience, our aim is to help meet both the manufacturers' and consumer needs. We partner with our customers to identify the best ingredient combination for their food and beverage products.
Cargill's high-quality lecithin solutions are sourced exclusively from plants, and non-GMO and organic options are available to further support label-friendly formulation.
Applications
Confectionery
- Adjusts the viscosity and yield value of chocolate
- Reduces cocoa butter use in chocolate products
- Emulsifies and stabilizes ingredients
- Prevents oil separation in fillings and sweet spreads
- Reduces the stickiness of hard and soft candies
- Improves the chewability of chewing gums
Cargill Brands:
LECIPRIME®, TOPCITHIN®, EMULFLUID®, EMULPUR®, LECIGRAN™
Bakery
- Helps to improve ingredient mixing
- Reduces dough stickiness
- Improves processing and release
- Supports in providing uniform browning
- Increases volume and freshness
- Extrusion aid
Cargill Brands: LECIPRIME®, LECIMULTHIN®, LECISOY®
Culinary
- Helps to improve emulsion stability
- Prevents coalescence during heating
- Reduces spattering of margarines and low fat spreads
- Helps to improve spreadability
- Reduced fat separation
Cargill Brands: LECIPRIME®, TOPCITHIN®, EMULPUR®, EMULTOP®
Dairy & Dairy alternatives
- Wetting and dispersing aid for powdered products
- In powder processing it supports agglomeration and reduces the hardness of particles
- Stabilizes emulsion
- Helps to improve texture and mouthfeel
Cargill Brands: LECIPRIME®, TOPCITHIN®, METARIN®, EMULPUR®, EMULTOP®
Meat & Meat alternatives
- Enhanced mixing and emulsification
- Improves processability
Cargill Brands: LECIPRIME®, TOPCITHIN®, EMULPUR®, EMULTOP®
Food supplement
- Naturally contains choline
- Polyunsaturated fatty acid source
Cargill Brands: EPIKURON®
Non-Food
Feed
- Provides source of energy
- Source of choline and Inositol
- Helps to improve fat digestibility
- Wetting and dispersing aid for powdered products
- Helps to reduce dust
- Extrusion aid
Cargill Brands: EMULBESTO™, NUTRIPUR™
Creating a more sustainable lecithin supply chain and production
We work towards a more sustainable supply and production of our ingredients, including lecithin.
Production sites
Hamburg (Germany)
DIN EN ISO 9001
FSSC
Halal
Kosher and pareve (certified by Orthodox Union)
GMP+
SGS non-GMO IP Supply Chain Standard
SEDEX-registered
DIN EN ISO 50001
AEO (Supply Chain – zollrechtliche Vereinfachungen)

Zaandam (The Netherlands)
DIN EN ISO 9001
FSSC
Halal
Kosher and pareve (certified by Orthodox Union)
GMP+
Food Chain ID non-GMO
Food Chain ID Proterra
SEDEX-registered
Regulatory status
In the EU, lecithin (E322) is regulated under Regulation (EC) No 1333/2008 of the European Parliament and of the Council of 16 December 2008 on food additives.
Cargill's global team of regulatory and food law experts will be glad to discuss regulatory, nutrition-related claims and food law-related issues.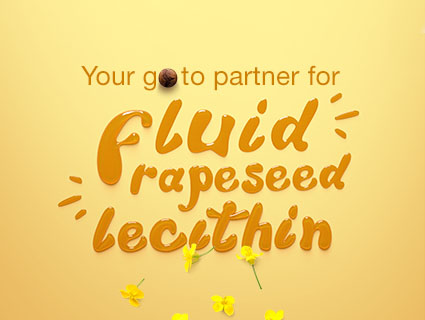 Introducing fluid rapeseed lecithin
Cargill's fluid rapeseed lecithin is an easily soluble ingredient derived from regionally sourced European rapeseed, which helps to ensure resilient supply.
Some Cargill products are only approved for use in certain geographies, end uses, and/or at certain usage levels. It is the customer's responsibility to determine, for a particular geography, that (i) the Cargill product, its use and usage levels, (ii) the customer's product and its use, and (iii) any claims made about the customer's product, all comply with applicable laws and regulations.