Carrageenan
Carrageenan for innovative textures
Carrageenan are water soluble polysaccharides extracted from red seaweeds with thickening, stabilizing and gelling properties. It also provides synergy with dairy proteins, suspends, and stabilizes fat, protein and cocoa particles while improving mouthfeel.
Cargill offers one of the widest ranges of commercially available carrageenan, employing proven production processes and using a large variety of different types of red seaweeds (Rhodophyceae) from the Gigartinales group.
To ensure sustainable sourcing of our offer Cargill has established the Red Seaweed Promise. Further information on the program can be found here.
Cargill sources red seaweed from three different continents. The main varieties used are Gigartina, Chondrus, Iridaceae, and Eucheuma.
With Cargill's clean label offering and the plant fully compliant to pharmaceutical requirement (Highest level of quality standards) Also add Cargill's formulation expertise, this enables the formulation of commercial carrageenan products tailored to very specific needs in different applications.
Cargill's offer
| Brand | Features |
| --- | --- |
| Satiagel™ | Gelling property in confectionary, gelled desserts, water gelling, and stabilization of dairy / non-dairy beverage and also relevant in meat applications. |
| Seabrid™ | Sustainable and economical carrageenan dedicated to dairy applications. |
| Satiagum™ | High viscosity carrageenan to provide thickening mainly for pharmaceutical, personal care and hot filled creamy dessert. |
| Aubygel™ | Semi-refined low cost carrageenan with lower functionality but good enough for some meat application. |
More information
Functionality
Acts as a thickening and gelling agent:
Film forming
Provides synergy with dairy proteins
Suspends and stabilizes fat, protein and cocoa particles
Improves mouthfeel
Regulatory Status
Carrageenan (E 407) is listed in Annex II of Regulation (EC) No 1333/2008 of the European Parliament and of the Council of 16 December 2008 on food additives. Where for particular food categories a limited dosage may apply mostly "quantum satis" applies in many food categories.
Manufacture
Our refined carrageenans are manufactured in modern plants utilizing the latest extraction, concentration, separation and drying technologies, following 2 main processes: Alcohol and KCI.
Production site
Our Carrageenans have been manufactured in our production plants in Baupte (Normandy, France) since 1956.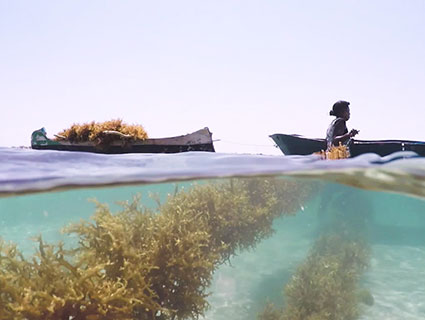 Cargill's Red Seaweed Promise™
Cargill's Red Seaweed Promise™ - leading the industry towards a thriving red seaweed sector for generations to come.
Some Cargill products are only approved for use in certain geographies, end uses, and/or at certain usage levels. It is the customer's responsibility to determine, for a particular geography, that (i) the Cargill product, its use and usage levels, (ii) the customer's product and its use, and (iii) any claims made about the customer's product, all comply with applicable laws and regulations.