Production Process
Meet the stevia plant. The proud parent of our nature-derived sweetener. People have been sweetening foods and beverages with stevia leaves for hundreds of years. Stevia is a plant (specifically, a member of the chrysanthemum family) native to portions of northeastern Paraguay. The taste comes from natural ingredients from the leaves called steviol glycosides. Our stevia leaf extracts are comprised of the best tasting steviol glycosides.
Making stevia leaf extract: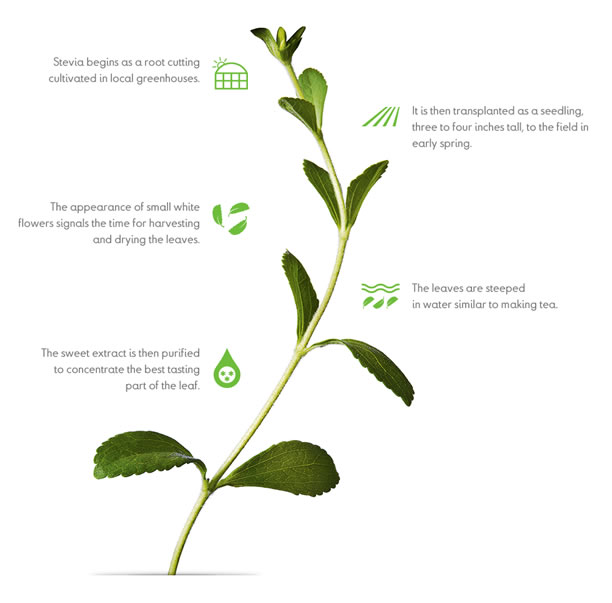 Glossary of Terms
Term
Description
Stevia
General term used to refer to the plant and commercially to food uses of Stevia rebaudiana Bertoni (botanical name)
Steviol glycosides

Sweet tasting components in leaves of the stevia plant

The leaf contains at least 10 unique steviol glycosides including rebaudioside A, stevioside, rebaudioside C

Rebaudioside A

Predominant steviol glycoside

Also referred to as 'RA.' 'reb A,' or 'rebiana'
Purified from the leaf, it provides a clean, sweet taste

Stevia leaf extract

Refers to compounds isolated (extracted) from stevia
Our Offer
Cargill scientists have spent over 300,000 hours studying the unique properties of the stevia leaf. Our broad portfolio of stevia sweeteners, proven formulation expertise and deep market insights translate into your competitive advantage. A rigorous specification process ensures consistent product quality – regardless of growing season – for your end-products.