Dairy Innovation
Texture and sweetness that helps you rise to the top.
Many dairy products are naturally wholesome, making them a popular choice for consumers seeking greater authenticity and simplicity in their food. Cargill can help you further enhance your dairy products' appeal with solutions that:

Reduce sugar content while maintaining great taste and texture
Replace less desirable ingredients with label-friendly ingredients
Reduce the number of ingredients on the label
Use ingredients with features that are particularly desirable for certain consumers (such as non-GMO, organic, vegetarian, gluten-free)
Develop dairy alternatives that deliver on consumer expectations for taste and texture

Label-friendly Dairy Insights Report

Read about the challenges and opportunities in texturizing and sweetening label-friendly dairy products.
Sweeteners
The future is here and it's sweeter than ever! Cargill's EverSweet® next-generation stevia sweetener has great taste with up to 100% sugar replacement. It has the same sweetness that is found in the stevia leaf, to delight your taste buds with calorie-free joy.
[North America]/[]
ViaTech® stevia sweeteners are high performance ingredients that help food and beverage manufacturers achieve optimal taste and sweetness at higher usage levels.
[North America]/[]
Zerose® erythritol is a natural*, zero-calorie bulk sweetener that looks and tastes like sugar, making it ideal for food and beverage applications promoting sugar reduction and weight management.
[North America]/[]
Texturizers
Dairy Application Articles & Resources
Flavored Milk Infographic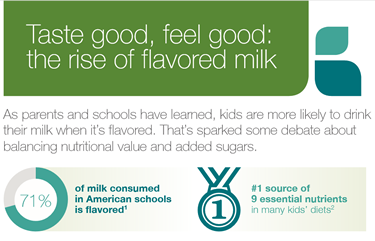 As parents and schools have learned, kids are more likely to drink their milk when it's flavored. That's sparked some debate about balancing nutritional value and added sugars.
Download
Some Cargill products are only approved for use in certain geographies, end uses, and/or at certain usage levels. It is the customer's responsibility to determine, for a particular geography, that (i) the Cargill product, its use and usage levels, (ii) the customer's product and its use, and (iii) any claims made about the customer's product, all comply with applicable laws and regulations.