ViaTech® Stevia Leaf Extract
Achieve up to 50% sugar reduction in your applications.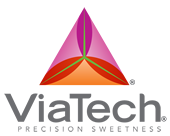 ViaTech® stevia leaf extracts are high performance ingredients that help food and beverage manufacturers achieve optimal taste and sweetness at higher usage levels. With ViaTech® ingredients, achieving sugar reduction of 50% or more in challenging applications, like carbonated soft drinks, with great taste is now possible. With a sensible cost-in-use and supply, creating reduced and zero-calorie stevia-based sweetened products consumers will love has never been easier.
Precision sweetness
Cargill's new ViaTech® portfolio of ingredients has a true sweet taste and a clean finish. At last, precision sweetness for low-to-zero calorie products.
Stevia in Beverages
Tips for working with stevia in beverages
Join Cargill senior food scientist Leanne Wortman as she shares techniques used in the lab to help narrow down the optimal stevia concentration for your beverage.
FDA defines reduction as 25% or greater.