Getting to the Zero Calorie Sweetness
We love to know everything about sweeteners, and we know some folks are more curious than others, if you're like us and want to know a little more about the history and science of EverSweet™ stevia sweetener, this page is for you.
For thousands of years, humans have carefully selected baker's and brewer's yeast types that work best to produce alcohol, aromas and flavors. More recently, scientists have learned how biotechnology can utilize fermentation to produce other important products, including vitamins and life-saving medicines.1
What is specially crafted yeast?
For nearly four decades, scientists have been introducing different genes into yeast.2 Cargill used this same proven approach to develop our yeast which produces sweet steviol glycosides.
First, our team determined the specific enzymes the plant used to create the sweetest steviol glycosides called Reb M and Reb D.
Once our scientists understood which enzymes the stevia plant used to make steviol glycosides, they looked for genes that control the production of those enzymes that work best in yeast. The genes used include genes from the stevia plant and other plants, such as lettuce, tomato, blackberry and rice. The genes perform the same function as the genes in the stevia plant, but more efficiently. This enables our yeast to become a mini-factory, converting simple sugar into Reb M and Reb D far more efficiently and in much greater quantity than a stevia plant.
Once our yeast completes its steviol glycoside production, the mixture is heated, inactivating the yeast cells. At that point, the yeast is removed through a filtering process similar to the carbon filters you might find in a water purification system.
In the end, all that remains are the very sweetest steviol glycosides, identical to those produced in such tiny quantities by stevia plants.
1Sources: about.com and about.com
2Source: Journal of the Royal Society

Why not just get the sweetener from the leaf?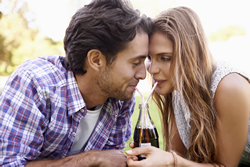 Only a tiny fraction of the stevia leaf – less than 1 percent – produces Reb M and Reb D. With such small quantities available in the plant, it would require significant land use and produce too much waste to be environmentally or commercially viable.
Some Cargill products are only approved for use in certain geographies, end uses, and/or at certain usage levels. It is the customer's responsibility to determine, for a particular geography, that (i) the Cargill product, its use and usage levels, (ii) the customer's product and its use, and (iii) any claims made about the customer's product, all comply with applicable laws and regulations.