Stevia Solutions for Product Challenges
Food and beverage manufacturers can capture market share by satisfying the growing unmet consumer need for naturally* sweetened reduced calorie products. By choosing Truvia® stevia leaf extract from Cargill, you will find solutions to your biggest product launch and reformulation challenges: formulation and sensory expertise, consumer and industry insights, a reliable supply chain and trusted partner; and a diverse portfolio of nutritive and non-nutritive sweeteners that can be used to create the best tasting products.
Consumer Insights
Capture market share and address unmet consumer needs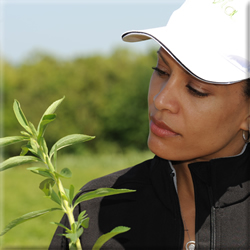 Around the world, more consumers are reaching for naturally sweetened, lower-calorie foods.
This growing segment of consumers represents 39% of primary grocery shoppers.* It's a group we call the "Naturally Splendids." They crave great taste, but also seek natural lower-calorie foods and beverages to help manage the sugar and calories in their diet.
Cargill's proprietary tools help our customers understand consumer attitudes and behaviors around sweetness better so that they can make the right choices to meet their consumers' need around sweetness. With a diverse portfolio of nutritive and non-nutritive sweeteners, and a successful global tabletop brand, Truvia® stevia leaf extract, we understand consumers and sweetness.
Naturally sweetened reduced calorie products are among the fastest growing products in the global marketplace. We can show you why brands with great tasting solutions using Truvia® stevia leaf extract will capture major market and mind share.
*Source: Cargill Proprietary Sweetener Segmentation
Formulation Expertise
Create the taste your customers will love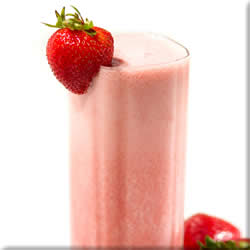 Great taste is the number one driver of consumer purchases, but achieving great taste is difficult. Formulation is about more than flavor and sweetness – it's about the interplay of all the ingredients in a formula. Because of Cargill's diverse ingredient portfolio, our Truvia® technical application experts have in-depth knowledge of stevia leaf extract and how it works with a wide range of ingredients. With over 75,000 hours focused on refining stevia-based formulations, our experts know stevia. This breadth of expertise helps our customers create the products their consumers will love.
Reliability / Trusted Partner
Experience the commitment of a trusted global supplier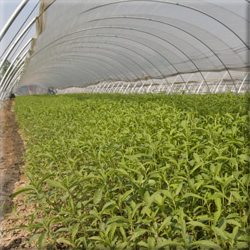 With 147 years of experience in food ingredients, you can trust Cargill to deliver the range of high quality stevia ingredients that your brand deserves, produced responsibly and sustainably. The Truvia® enterprise uniquely manages its stevia supply chain from field to table and established the first global agricultural standard for stevia.
Analytical standards
Cargill's leading work in adopting and championing the most rigorous analytical standards along with the integrity and reliability of Cargill's supply chain team means that you can trust us to always deliver high quality, consistent product.
Cargill complies with industry monographs to determine quality standards for:
Steviol Glycosides
JECFA* (Joint FAO/WHO Expert Committee on Food Additives)
E 960 (E Number assigned to steviol glycosides in European Commission)
FCC (draft) (Food Chemicals Codex)
Rebaudioside A
FCC (applies only to RA95)
In order to give our customers a consistent product, we
Continuously improve analytical methods to ensure the most accurate data is available
Developed a protocol for properly characterizing analytical standards to reduce variability in the analytical methods. These standards are independently measured by 4 labs using 2 methods to ensure the correct data can be used regardless of the testing equipment
Are the technical lead for the International Stevia Council proficiency testing studies
Proven and reliable supply chain
The supply chains which bring Truvia® stevia leaf extract from field to table are managed with integrity and transparency.
Wherever we operate and whatever we do, the Truvia® enterprise treats all people and business partners with dignity and respect. All of our manufacturing facilities are part of SEDEX, the Supplier Ethical Data Exchange. By joining SEDEX, information is shared on business practices through both self-assessments and third-party audits.
From field to table, Cargill has built the Truvia® stevia leaf extract supply chain in a sustainable and responsible manner. We apply our knowledge and experience to help meet the complex economic, environmental and social challenges wherever we do business. Cargill is the type of partner you can depend on, be proud of, and above all, trust to uphold your brand standards.
Cargill's financial strength and long-term view to the businesses it enters, translates into stability for our supply chain partners and our Truvia® stevia leaf extract customers
From field to table, we have built a responsible and sustainable supply chain for Truvia® stevia leaf extract that will meet your brand standards.
Sustainable source of sweetness
Bringing zero-calorie natural sweetness to the world was a journey that spanned years. It began by finding a natural, sustainable source of sweetness in the stevia plant.
The plant is grown in Asia and South America due to its need for long hours of daylight, water and warm temperatures. After harvest, leaves are dried and soaked in water, much like brewing tea.
Our agronomy program is part of a long-term strategy to develop a sustainable global market for Truvia® stevia leaf extract. Cargill is establishing a plant-breeding program where stevia will be studied to select for particular plant traits. As the market develops and the agronomy is better understood, productivity per plant, per farm, per acre or per hectare will improve.
As Truvia® stevia leaf extract is two hundred times sweeter than sugar, smaller amounts of the product are required in food and beverages compared to other sweeteners. Improvements to the productivity of the plant by increasing the sweetness per square foot on the farm reduce stevia's space requirements as well. Overall, this means that the "footprint" for Truvia® stevia leaf extract will remain sustainable over the long-term development of the market.
Sweetener Portfolio
Truvia® stevia leaf extract - part of a diverse sweetener portfolio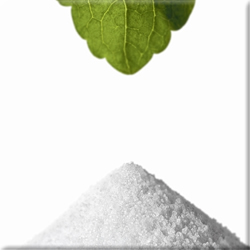 Your new product formulations or reformulations will directly benefit from Cargill's unique lens on global consumer attitudes and its extensive sweetener product portfolio. We understand stevia, and we also have experience across the entire sweetness spectrum. That helps you make the right decision about how to use sweeteners in your products.
Cargill supplies a broad spectrum of sweeteners to meet different customer and consumer needs, including caloric sweeteners made from sugar cane, sugar beets, corn and wheat, and non-caloric sweeteners including polyols and Truvia® stevia leaf extract.
Because sweeteners vary in taste, cost, and functional attributes, we partner with our customers to identify the best ingredient formulation for each of their products. As a flexible, collaborative development partner, our applications team is here to share the knowledge you need, right when you need it. As leaders in their respective food and beverage application categories they will bring you the ideas and innovations that get you to a consumer-preferred, cost competitive, industry leading food or beverage.
* FDA has not defined natural. Contact Cargill for source and processing information.
Some Cargill products are only approved for use in certain geographies, end uses, and/or at certain usage levels. It is the customer's responsibility to determine, for a particular geography, that (i) the Cargill product, its use and usage levels, (ii) the customer's product and its use, and (iii) any claims made about the customer's product, all comply with applicable laws and regulations.