Non-GMO* Tapioca Syrup
A label-friendly swap for corn syrup
Label-friendly formulation can be a delicate balancing act, with ingredient scrutiny, taste, flavor, functionality and other sensory expectations all carrying weight. Cargill Tapioca Syrup can bring these objectives into alignment effortlessly.
Familiar and label-friendly
Tapioca starch is sourced from cassava, a traditional root vegetable. Cargill's portfolio of tapioca syrups features a full range of carbohydrate profiles and Dextrose Equivalent (DE) levels plus Certified Organic lines to further enhance your products' label-friendly appeal.
Versatile functionality
Crisp, sweet taste – Adds the desired level of sweetness, from minimal to moderate, with little to no flavor or color.
Body and mouthfeel – Contributes to nutritive solids, body, mouthfeel and crystallization control, with physical and sensory properties comparable to other syrups.
Application breadth – Enhances functionality in a wide range of applications, including bars, confectionery, ice cream, cereals, fruit preps, non-dairy creamers, sports nutrition and more.
1:1 replacement – Having a % solids level plus carbohydrate profile and DE matching comparable corn/glucose syrups enables little to no reformulation.
Reliable quality and supply
Cargill Tapioca Syrup is produced to stringent specifications to ensure consistent quality. Our extensive global supply chain ensures reliable supply.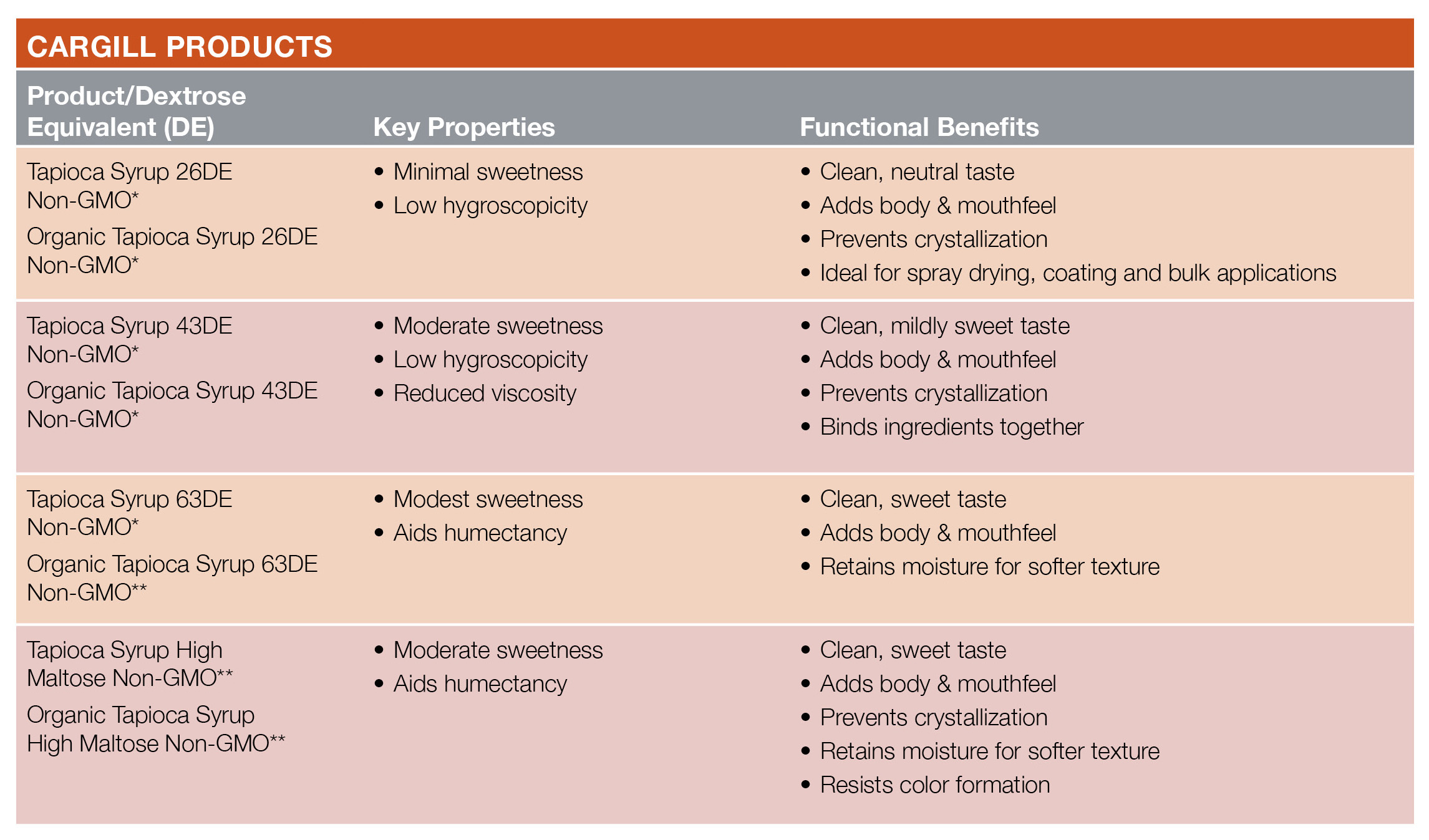 *Non-GMO – there is no worldwide definition of the term "non-GMO." The definition of "non-GMO" varies widely from country to country. Some countries have no regulatory definition of "non-GMO," and some countries consider a product to be "non-GMO" if it is exempt from mandatory GMO-labeling in that country. Requirements for mandatory GMO-labeling also vary widely from country to country. Various private standards groups and certifying agencies have also developed their own definitions of and standards for non-GMO.
A Label-friendly Swap for Corn Syrup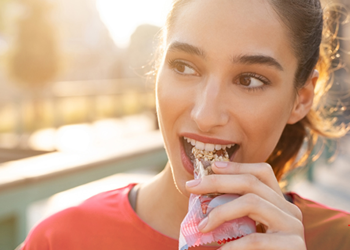 Sourced from cassava, a traditional root vegetable, Cargill Tapioca Syrup offers a familiar and label-friendly alternative to corn and other glucose syrups.
Download
Some Cargill products are only approved for use in certain geographies, end uses, and/or at certain usage levels. It is the customer's responsibility to determine, for a particular geography, that (i) the Cargill product, its use and usage levels, (ii) the customer's product and its use, and (iii) any claims made about the customer's product, all comply with applicable laws and regulations.