Zerose® Erythritol Sweetener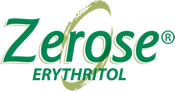 Zerose® erythritol is a natural*, zero-calorie bulk sweetener that looks and tastes like sugar, making it ideal for food and beverage applications promoting sugar reduction and weight management. Erythritol has the highest digestive tolerance compared to other polyols and masks the aftertaste of intense sweeteners. It is also non-cariogenic and has been clinically shown to offer Better Tooth Protection™ than other polyols.

---

For a Healthier Lifestyle
---
Consumers embrace wellness mindset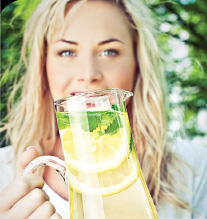 With the growing demands to reduce overall sugar consumption, the food industry is seeking ways to respond to consumer demand for foods that help meet their dietary and weight loss goals. This means developing foods that are sugar-free, lower calorie and low in glycemic carbohydrates while also achieving the desired texture, flavor and stability of traditional products.
Download Zerose® Erythritol Product Guide
---
Applications: Carbonated soft drinks; Dairy and soy drinks; Energy drinks; Frozen beverages; Functional and flavored water; Juice; Powdered beverages; RTD Coffee; RTD Tea; Smoothies; Sports Drinks
Benefits:
Clean, sugar-like taste
Works well with high intensity sweeteners
Enhanced body and mouthfeel
Optimal freezing point depression
Excellent heat and acidity characteristics
Does not raise blood glucose or insulin levels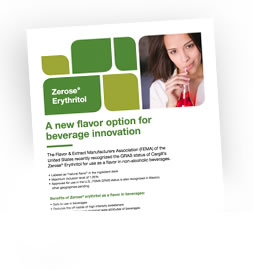 Learn how Zerose® erythritol can be used as a natural* flavor.
Functionality Benefits
---
Acid resistance
High glass transition temp
High heat resistance
High crystallization speed
Low hygroscopicity
Satisfying mouthfeel
Viscosity control
Zerose® Erythritol Technical Details
Production Process

Erythritol is the first polyol to be industrially manufactured by a fermentation process. The starting material is a simple sugar-rich substrate that is fermented using conventional yeast to yield erythritol. The product is then crystalized to 99.5% purity from the filtered and concentrated fermentation broth.

Molecular Structure

Zerose® erythritol is a low molecular weight polyol, comprised of four carbon atoms. It appears as a white crystalline, odorless product that rapidly dissolves in water (up to 60 g/100 ml at 30°C) to produce a brilliantly clear, low viscosity, colorless solution.
FDA defines reduction as 25% or greater.
*FDA has not defined natural. Contact Cargill for source and processing information. The labeling, substantiation, and decision making of all claims for your products is your responsibility. We recommend you consult regulatory and legal advisors familiar with all applicable laws, rules and regulations prior to making labeling and claims decisions, including decisions regarding natural claims.
Some Cargill products are only approved for use in certain geographies, end uses, and/or at certain usage levels. It is the customer's responsibility to determine, for a particular geography, that (i) the Cargill product, its use and usage levels, (ii) the customer's product and its use, and (iii) any claims made about the customer's product, all comply with applicable laws and regulations.