How is EverSweet® stevia sweetener made?
We know you care about how and why ingredients are made. So you might find it interesting to know that producing food ingredients from fermentation isn't new. In fact, it's a century-old technique.
Many mealtime favorites, including yogurt, aged cheese, pickles, chocolate and coffee all depend on fermentation. One of the most common methods of fermentation uses yeast to convert simple sugars into some favorite foods and beverages including bread, beer and wine.
Cheese: A delightful fermentation surprise
Our EverSweet® stevia sweetener isn't the first food ingredient to come from a fermentation process. For 20 years, cheese makers have relied on chymosin, an enzyme used to thicken milk, which is made through a similar fermentation process. According to estimates, up to 80% of cheese produced in the world is made with chymosin derived from yeast*
Before food scientists learned how to use yeast to make chymosin, the most abundant source of this enzyme was found in the stomach lining of young calves. Thanks to advances in yeast fermentation, cheese makers now have a more economical, abundant and higher-quality source of chymosin.
(Alternative names are Rennet / Microbial Rennet)
How is EverSweet® sweetener made?
To produce our sweet molecules, we simply put a modern twist on this centuries-old practice of fermentation.
It all began with the stevia leaf. Our scientists studied the sweet components of the stevia leaf called steviol glycosides. They learned that a single leaf produces more than 50 different steviol glycosides, each with a different sweetness profile. In the meantime, our partner, was working on unlocking the secrets around how the stevia plant turns sunshine into the very sweetest steviol glycosides in its leaves. They learned which enzymes the stevia plant uses to convert simple sugars into these ultra-sweet molecules. Then, found a way to mirror that process through our specially crafted yeast.
By adding a few genes to the specially crafted yeast, we enable our yeast to produce the same type of enzymes used by stevia plants. We feed our yeast some simple sugars and the yeast transforms the simple sugar into the very sweetest steviol glycosides, just like a stevia plant.
The yeast is then filtered away and the remaining sweet steviol glycosides are concentrated and purified. These sweet steviol glycosides are identical to certain steviol glycosides that are naturally formed in very small quantities in the stevia leaf.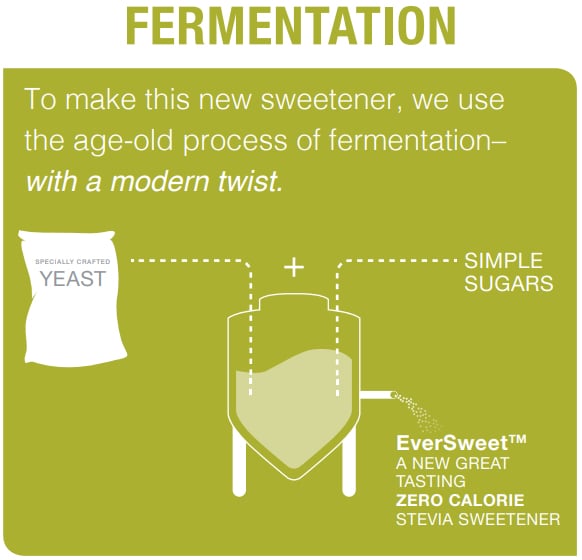 Still have questions? Click here to find out more >
*Source: Major Technological Advances and Trends in Cheese, Johnson, M.E. et al., Journal of Dairy Science , Volume 89 , Issue 4 , 1174 – 1178
Some Cargill products are only approved for use in certain geographies, end uses, and/or at certain usage levels. It is the customer's responsibility to determine, for a particular geography, that (i) the Cargill product, its use and usage levels, (ii) the customer's product and its use, and (iii) any claims made about the customer's product, all comply with applicable laws and regulations.