About Stevia
Meet the stevia plant. The proud parent of our natural* sweetener. People have been sweetening foods and beverages with stevia leaves for hundreds of years. Stevia is a plant (specifically, a member of the chrysanthemum family) native to portions of northeastern Paraguay. The taste comes from natural ingredients from the leaves called steviol glycosides. Truvia® stevia leaf extract is comprised of the best tasting steviol glycosides.
Making Truvia® stevia leaf extract: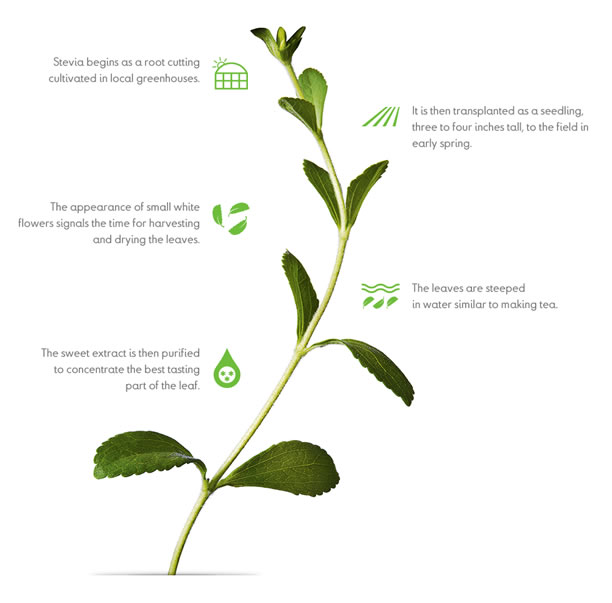 Glossary of Terms
Term
Description
Stevia
General term used to refer to the plant and commercially to food uses of Stevia rebaudiana Bertoni (botanical name)
Steviol glycosides

Sweet tasting components in leaves of the stevia plant

The leaf contains at least 10 unique steviol glycosides including rebaudioside A, stevioside, rebaudioside C

Rebaudioside A

Predominant steviol glycoside

Also referred to as 'RA.' 'reb A,' or 'rebiana'; also used on food labels in the US
Purified from the leaf, it provides a clean, sweet taste

Stevia leaf extract

Refers to compounds isolated (extracted) from stevia

Name for purified stevia extract that appears on ingredient labels in the US

Truvia®
Brand name of leading sweetener derived from stevia
* FDA has not defined natural. Contact Cargill for source and processing information.
Some Cargill products are only approved for use in certain geographies, end uses, and/or at certain usage levels. It is the customer's responsibility to determine, for a particular geography, that (i) the Cargill product, its use and usage levels, (ii) the customer's product and its use, and (iii) any claims made about the customer's product, all comply with applicable laws and regulations.