Stevia for Beverages
Formulate for sweet success with Stevia leaf extracts
The pressure to reduce sugars in beverages continues to escalate, as brands face a growing litany of health concerns and expanding government regulations. Given the pressure, it seems the European beverage marketplace may be due for an overhaul. Enter stevia: a herb native to Latin America, the stevia plant contains steviol glycosides that are 150 to 300 times sweeter than sugar.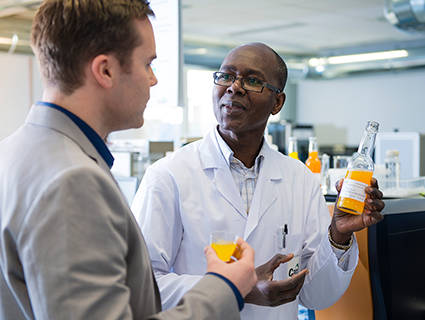 Cut The Calories, Not The Taste
Read about why stevia leaf extracts are opening doors in beverage innovation and how Cargill application knowhow, based on more than 300,000 research hours, is enabling the replacement of sugar in nectars and iced teas.
Stevia-based sweeteners have quickly become the favorite high-intensity sweetener as they have proven to be a useful, heat-stable, zero-calorie ingredient safe for use by diabetics and tooth-friendly. However, higher usage levels proved challenging – until Cargill harnessed the unique interactions between the steviol glycosides, opening the door to new innovation.
Stevia Benefits
Zero calorie ingredient
Nature-derived, from the stevia plant
Favorable consumer perception
High-intensity sweetness
Cost-effective
Sustainable sourcing
Our offering
Our broad portfolio of stevia sweeteners, proven formulation expertise and deep market insights translate into your competitive advantage. A rigorous specification process ensures consistent product quality – regardless of growing season – for your end-products.
Brand
Characteristics
Benefits
Range
Truvia®
High purity Reb A (from the leaf)

Cost-effective, lower levels of sugar reduction (up to 5 SEV*)
Clean, sweet taste

RA50/ RA80/ RA95

Products available with varying levels of Reb A for higher purity

ViaTech®
Proprietary, synergistic blends of Steviol Glycosides designed for optimized performance

Higher levels of sugar reduction (up to 7 SEV*)
Unique IP and proprietary technology
Optimal taste and sweetness
Reduces bitterness and licorice off-notes

TS300/ TS1200GRAN/ TS1600

Range of products tailored to the beverage type ensuring optimal performance and sweetness profile

INFUSE by Cargill™

No added sugar blend

Enables no added sugar claims
No use of aspartame
Great tasting, zero calorie soft drinks formulation

Trilisse® QSR 904

Blend of stevia, erythritol and sucralose designed for low or no calorie soft drinks
* Sweetness equivalent
Partner with Cargill for Sweet Success
Partner with Cargill for Sweet Success:
Cargill is a pioneer in the Stevia Industry:
Cargill scientists have spent over 300,000 hours studying the unique properties of the stevia leaf
Our deep knowledge of the stevia plant led to the development of our proprietary taste-prediction model & we continue to build it out today
Cargill continues to advance the stevia industry with a full portfolio of products
Leveraging Cargill's 50+ years experience in Sweetness
We understand the challenges when formulating out sugar
Our applications experts can work with you to find the best stevia-based ingredient or blended solution for your product, along with the broad portfolio of Cargill ingredients at our fingertips.
Cargill has the most comprehensive sustainability program in the stevia industry
All partners must adhere to the Cargill code of conduct as stated in ALL agreements
Standard developed by Cargill in 2011; Stevia leaf growing cooperatives must incorporate the standard

137 control criteria in 13 categories
Focus is on 11 critical and 33 major criteria i.e. chemical handling, banned substances, worker health and safety, no use of forced convict or child labor
Intertek, third party auditor, ensures compliance of the ag standard
Learn more
Sugar reduction is driving a new era of beverage innovation. Request our report to understand market drivers, key sugar thresholds and how Cargill's nature-derived solutions help you to deliver on-trend sugar reduction.