Cargill invests in specialty roll-dried starches to increase sustainable production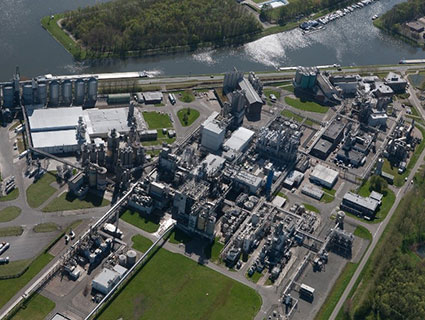 (Sas Van Gent, Netherlands, June 2021) With products ranging from native starches, functional label-friendly starches, to pregelatinized roll-dried and spray-cooked starches, Cargill offers customers one of the broadest starch and specialty portfolios in the market.
Through our SAI (Sustainable Agriculture Initiative) – FSA (Farm Sustainability Assessment) mass balance sourcing, we provide sustainably-sourced wheat and corn raw material solutions that are verified to Silver level. This standard is recognized by many leading food brands supporting sustainability at the farm level through actions on biodiversity, soil and water conservation.
A new investment is underway at our Sas van Gent facility in the Netherlands that will take Cargill to a new level as a sustainable and innovative food ingredient producer. Once fully implemented by summer 2022, it will improve our production process, refine our energy efficiency, as well as unlock significant capacity that can be used for production of our specialty functional starch portfolio.
Work is already underway at the plant. When complete, the upgrades will allow us to produce functional starches in a more sustainable way, whilst maintaining the same product quality. By adapting our processes, we expect to reduce our CO2 emissions by 1,900 MT – equivalent to keeping 375 cars off the road – and save as much as 45,000 m3/year of fresh water.
"These enhancements aren't just a win for the environment, they're also a win for our customers. –Beyond sustainability, this investment will enable us to produce functional starches in a more efficient way, while maintaining the same product quality. The increase in our production capacity will help us to better serve the dynamic functional food starch market and give us a competitive edge," said Kristien Gerits, CSST Europe's Food Starch Product Line Manager.