Cargill Beauty launches sustainable cocoa butter
Meeting growing consumer demand for sustainable personal care products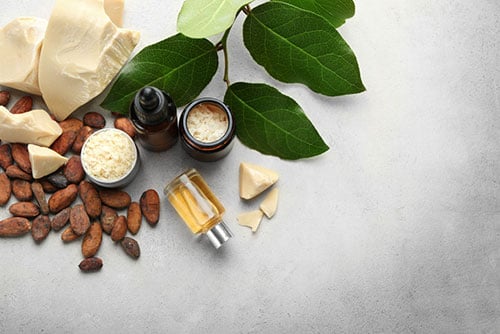 With nearly 20 years of experience in the field of sustainable cocoa for Cargill, Cargill Beauty offers its expertise to the cosmetic market in response to growing consumer demand for ethical and eco-friendly beauty products. The Sustainable Cocoa Butter from Cargill Beauty is part of The Cocoa Promise™ which is its commitment to farmers and their communities, enabling them to achieve better incomes and living standards while growing cocoa sustainably.
Certified by the Rainforest Alliance, the Sustainable Cocoa Butter sourced from Ghana, Cameroon and Côte d'Ivoire is readily biodegradable, and 100% natural following ISO 16128. This white and deodorized cocoa butter offers a fast melting and slippery sensory on the skin while being less sticky and giving a smooth afterfeel. Its unique crystal structure differentiates it from other emollients such as shea butter, which results in a comparative light sensory. The richness of the Sustainable Cocoa Butter brings comfort for dry skins and a unique sensorial experience, while allowing consumers to have a better environmental impact.
The Sustainable Cocoa is sourced through Cargill's direct network in West Africa and from known farmers and farmer organizations benefitting from the Cargill Cocoa Promise™ activities. Launched in 2012, The Cargill Cocoa Promise™ represents Cargill's commitment to securing a sustainable supply of cocoa now and in the future, whilst supporting farmers, communities, and the environment. Sourcing from that network, Cargill provides greater supply chain transparency to its customers. Its ambition is to accelerate progress towards a transparent global cocoa supply chain, to enable cocoa farmers and their communities to strengthen their socioeconomic resilience, and to deliver a sustainable supply of cocoa and chocolate products from bean to cosmetic & food end-products.
Cargill aims to reach 100% farm to factory traceability of our cocoa beans in its direct sourcing networks by 2030. Indeed, traceability is key to achieving a more transparent cocoa supply chain. To do so, Cargill starts at the beginning of the cocoa value chain, because this is where the cocoa sector faces the key socioeconomic and environmental challenges and where the company is uniquely placed to make a difference. With the use of technologies to physically track the cocoa bags, 50% of sustainable cocoa beans in the global direct supply chain are now traceable from farm-to-factory. Already 100% of the digitalization of the supply chain is achieved in Ghana, and 74% in Côte d'Ivoire.
In 2017, Cargill introduced five Sustainability Goals cementing our commitment to further improving farmer and community livelihoods. Our ambitions and targets under these Goals guide all our sustainability efforts.
Improve farmer livelihoods, in order to help farmers implement efficient, environmentally friendly techniques and teach them about Good Agricultural Practices, for a productivity boost. Farmers benefit from trainings and one-to-one coaching to strengthen their socioeconomic resilience & their communities.
Community wellbeing : To reach specific community needs with the Cargill Cocoa Promise™, we work with various partners to implement concrete solutions related to healthcare and nutrition, education, addressing child labor, and improving access to economic opportunities for women and young farmers
Protect our planet. Protect Our Planet is our strategic action plan to eliminate deforestation from the cocoa supply chain. It outlines concrete actions to achieve 100 percent cocoa bean traceability, to expand programs to grow more cocoa on less land, and to support farmers to effectively include agroforestry and conservation practices on their farms.
Consumer confidence. To help consumers choose sustainable cocoa products with confidence, we seek to provide clear, robust and transparent information, powered by technology, and to partner with third-party certifiers. This applies both to our direct supply chain, which is covered by the Cargill Cocoa Promise™.
Transformation, together. Farmers and farmer organizations are our key partners to ensure a sustainable supply of cocoa well into the future. Our success is linked to theirs. In order to create a more sustainable cocoa supply chain globally, we work with a multitude of stakeholders across the industry, using individual strengths and abilities for lasting and transformational change.
When purchasing Cargill Beauty's cocoa butter, customers benefit from greater supply chain transparency on the bean's origin, but also on the impact of their contribution. The Promise Cocoa also brings the insurance of a verified product by Cargill and the Rainforest Alliance, whose main sustainability goals are mitigating and adapting to climate change, protecting the environment, and preserving biodiversity.
Sustainable cocoa butter
A unique emollient that provides a responsible experience
Cargill Beauty's sustainable cocoa butter is a great opportunity for personal care manufacturers to develop products with a rich sensorial experience, supported with a strong sustainability program. Compared to other emollients, such as shea butter, cocoa butter demonstrates a unique crystallization which benefits the sensory, viscosity and texture of the final formulation. In addition, the quick melting behavior of cocoa butter results in a light, slippery sensory that feels light on the skin.
From wellness at home to relaxing bathroom beauty rituals, today's consumers are looking for next level personal care experiences. With the pandemic disrupting their travel plans, they want to discover the world from the comfort of their home and indulge in an insta-worthy experience that will engage all their senses. At Cargill Beauty we've developed 4 concepts, based on our nature-derived portfolio and inspired by the latest trends from different geographies.