Performance-enhancing moisture tolerance
Water (moisture) can be a problematic contaminant in dielectric-liquid-filled transformers that use mineral oil. FR3 fluid's superior moisture tolerance is sustained by two factors: higher moisture saturation and its "self-drying" mechanism enabled by the hydrolysis reaction.
Superior moisture tolerance can help keep transformers online—and for longer. Get FR3 fluid details.
Superior chemical properties. Reliable and longer performance.
A number of different factors influence two critical aspects of transformer performance: a transformer's dielectric strength and the aging of its solid insulation. Water is a common and compromising factor in both aspects.
Dielectric strength
For all insulation fluids in dielectric-liquid-filled transformers—mineral oil or FR3 fluid—the system's dielectric strength decreases as water content increase proportionally to the dielectric fluid's relative water saturation.
When the insulation fluid gets close to its saturation point at any particular temperature, "free" water may be found in the fluid, and the dielectric capacity becomes poor. At -20°C, mineral oil saturates at approximately 8 ppm, leaving free water in the fluid even at this, and lower, temperatures.
Breakdown voltage drops significantly when moisture content gets above 40% of relative saturation, affecting directly the dielectric capacity of the insulation system. Since a "typical" moisture content for a "dry" mineral-oil transformer would be between 5 and 10 ppm AND any moisture value above 3 ppm results in low breakdown voltage, energizing mineral-oil-filled transformers in cold environments leads to a real risk of dielectric failure.
FR3 fluid solves this fragility of mineral oil for low temperature energization (cold start): it has a saturation point of 425 ppm at -20°C, thus decreasing the risk of dielectric failure.
Thermal aging
As a mineral-oil-filled transformer operates, the system runs "hotter" (i.e., as the internal temperature increases); moisture migrates from the insulation paper into the fluid, coming back into the paper when the temperature reduces. As a result of mineral oil's relatively low saturation point compared to FR3 fluid, the moisture remains impregnated in the paper. Since moisture content increases paper degradation rate, a "self-induced" reaction is established. In a kind of snow-ball effect, more water leads to more degradation, which generates more water and increases degradation rate.
A transformer using FR3 fluid can run "hotter" due to its unique chemistry. FR3 fluid actually continuously "dries" the insulation paper in a hydrolysis process, slowing the solid insultation's aging. (However, it never "over dries" the paper, since the system maintains water equilibrium.).
FR3 fluid water saturation facts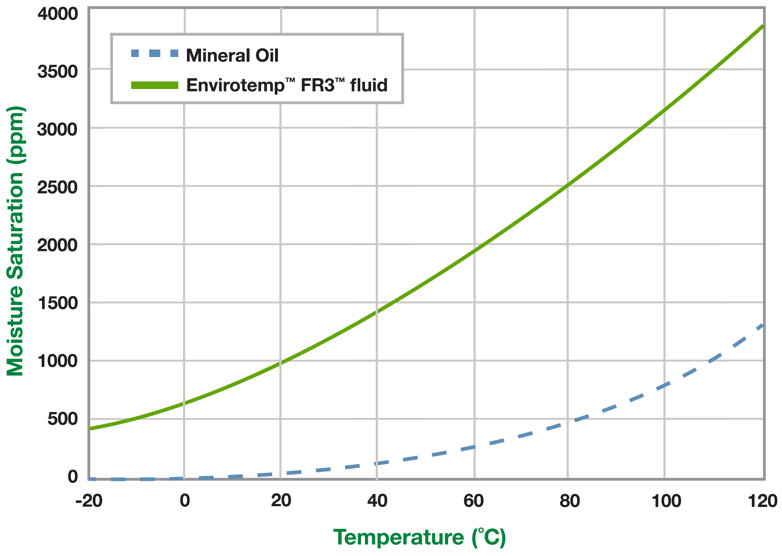 FR3 fluid can hold significantly more water (ppm) than can mineral oil. At -20°C, FR3 fluid saturates at approximately 425 ppm (compared to mineral oil's 8 ppm). Energizing an FR3-fluid-filled transformer at -20°C allows for a moisture content as high as 160 ppm (compared to mineral oil's moisture content of not more than 3 ppm without affecting dielectric strength). FR3 fluid maintains dielectric performance down to -50°C.
At 20°C, FR3 fluid's saturation point is approximately 1000 ppm, more than 10 times that of mineral oil at the same temperature, depending on the type of paper used.
The insulation life of transformers using FR3 fluid is five to eight times longer than the insulation life of transformers using mineral oil.
A transformer using TUK (thermally upgraded Kraft) paper and filled with FR3 fluid can operate 20°C warmer than—and have the same lifespan as—an equivalent mineral-oil-filled transformers, even if the transformer was designed for mineral oil. This provides the FR3-fluid-filled transformer an increased load capacity of 20% over its nominal capacity.
FR3 fluid's reaction with water does not produce damaging byproducts, unlike mineral oil's tendency to produce corrosive sludge; instead, the hydrolysis reaction involving FR3 fluid produces mild long-chain free fatty acids, which are not harmful.
What this all means
FR3 fluid is a significantly better choice compared to mineral oil transformer fluid due to its unique chemistry and higher saturation point. Using FR3 fluid in your distribution and power generation transformers helps you:
Maintain dielectric strength and reliability in your dielectric-liquid-filled transformers in cold environments.
Maintain dielectric strength and reliability in your transformers when running your transformers "hotter."
Extend asset load capacity; read more about FR3 fluid and flexible load capacity.
Extend asset lifespan.
Amplify the range of possible loading conditions, both below and above nameplate rating, and possibly realizing cost savings related to transformer-size reduction in your inventory; calculate possible cost saving with our SKU reduction calculator.
Reduce processing maintenance costs (e.g., using FR3 fluid can reduce or eliminate the most common maintenance intervention in mineral-oil-filled power transformers, namely the removal of water from either the oil or the insulation paper.
Mitigate transformer failure risk due to moisture-related issues.
Find out how using FR3 fluid positively effects total cost of ownership.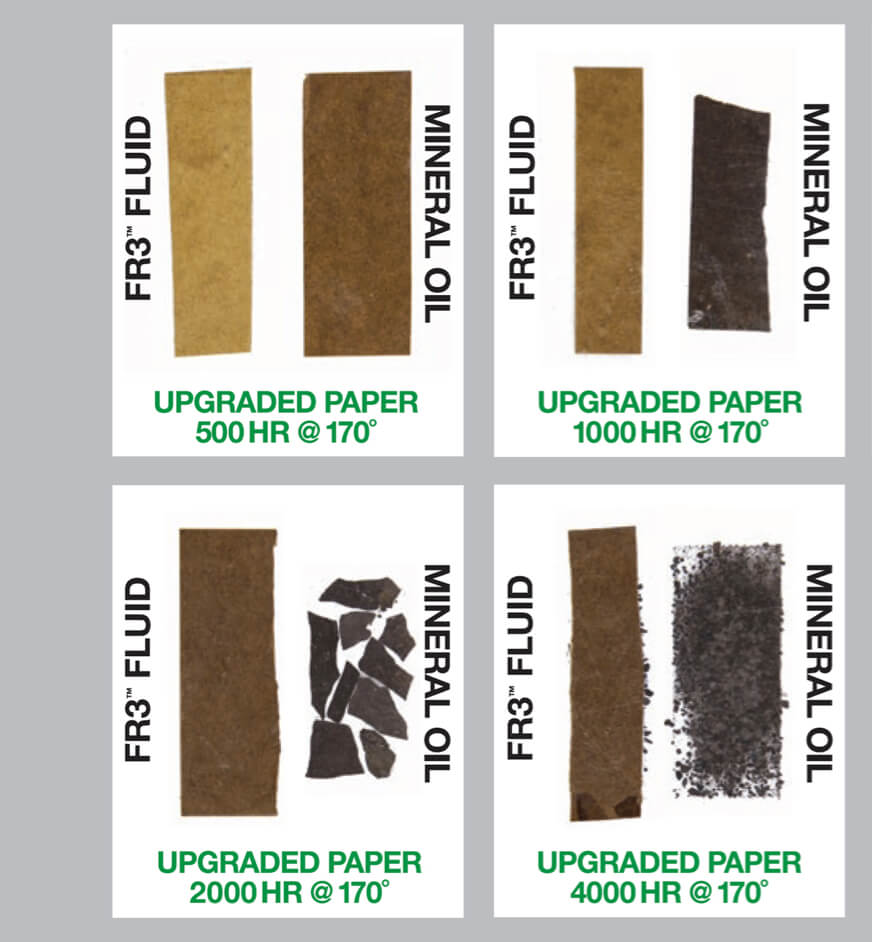 Seeing is believing
Thermally upgraded papers aged in FR3 fluid and mineral oil for varying times at 170°C demonstrated that cellulose ages more slowly when immersed in FR3 fluid than when immersed in mineral oil. Cellulose immersed in mineral oil ages rapidly especially at higher temperatures.1
1. FR3 natural ester fluid vs. mineral oil sealed tube test, Cooper Power Systems ML-152-2000.
The products and services described on this website may not be available in all jurisdictions or to all persons.