Lecithin as a Release Agent
Release agents
Many baked and cooked goods are manufactured in molds and forming plates to obtain the desired shape and structure. Moreover, intermediate transport of industrial products is often carried out on conveyer belts. Especially products with a high sugar content tend to stick to the surfaces of these forming or transport media. This is even more the case if the media surface is hot.
To facilitate release of products from that surface, special release agents are used, as using oils alone used as release agents may leave an unpleasant, relatively thick coating on the outside of products.
Lecithin is a versatile and label-friendly ingredient that not only serves as an excellent emulsifying ingredient, but its inherent release properties also make it an effective release agent for food manufacturing and cooking.
Lecithin benefits
Forms a stable film barrier to promote separation of food from contact surfaces in dip tanks and spray applications
Ensures quick and clean separation for easier cleanup
Reduces sticking and waste in finished food products
Facilitates cutting and shaping on production lines
Our offer
Lecithin can be used in water- or oil-based release systems to create a nonstick barrier between foods and contact surfaces that helps to minimize waste and simplify cleanup.
Cargill has a wide portfolio of plant-based lecithin products for all applications, sourced from soy, sunflower and rapeseed.
| Product | Botanical Source | Key Attributes | Type |
| --- | --- | --- | --- |
| Leciprime® | Soy, Sunflower | Non-GMO, Sunflower-based options do not require allergen declaration | Regular Fluid |
| Topcithin® | Soy, Sunflower | Non-GMO, Sunflower-based options do not require allergen declaration | Regular Fluid |
| Metarin® | Soy | Non-GMO | Low viscous compound |
| Emulpur® | Soy, Sunflower, Rapeseed | Fine powder, non-GMO options available, Sunflower and Rapeseed-based options do not require allergen declaration | De-oiled |
| Lecigran™ | Soy | Powder, non-GMO | De-oiled |
| Epikuron® | Soy | Phosphatidylcholine enriched fluid, non-GMO | Fractionated |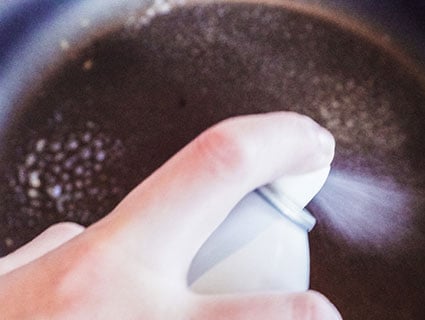 In the spotlight: Epikuron® 135 IP
Epikuron® 135 F IP is a fluid soy lecithin with enriched phosphatidyl choline content (PC). It offers excellent release properties and resists darkening during prolonged heating periods.
Some Cargill products are only approved for use in certain geographies, end uses, and/or at certain usage levels. It is the customer's responsibility to determine, for a particular geography, that (i) the Cargill product, its use and usage levels, (ii) the customer's product and its use, and (iii) any claims made about the customer's product, all comply with applicable laws and regulations.