AccuBrine® Automated Brine Maker
Stay ahead of the storm with the next generation of brine makers
Proven an effective and economical solution to fight snow and ice, brine is growing in popularity as are the systems designed to make it. With more options available today than ever before, it is important to invest in the best solution to fit your needs. But what happens when your needs change and your program grows? At Cargill, we recognize the importance of creating a brine maker that will adapt to help achieve your business goals. That's why we are taking our fully-automated system to the next level - introducing the AccuBrine® automated brine maker.
This sophisticated brine production system has many of the same favorite features of our original system but with simple improvements to provider greater benefits to customers.
Improved accuracy and efficiency
With updated features such as a redesigned operator interface screen layout and new PLC program to provide a cleaner screen navigation that is easier to use, updated electrical components, remote access to improve troubleshooting capabilities, and improved tank level management logic for better truck loading accuracy, the AccuBrine® automated brine maker is equipped to adapt to customer needs and help achieve your business goals.
Expands with your program
As your liquids program continues to grow, the AccuBrine® automated brine maker will adapt to the changes made as it easily connects to the AccuBrine® blend truck loading & blending system. Capable of mixing multiple additives with your brine, this addition gives you the freedom to create various different recipes ensuring you are ready for whatever mother nature throws your way.
More powerful pump. Increased efficiency
The AccuBrine® automated brine maker features a more powerful pump than previous versions, capable of producing 6,000 gallons per hour. With a stainless steel cast and stainless impeller, this upgrade enables you to produce brine more efficiently than ever before.
All new Remote Access
Now you can operate and monitor your brine maker remotely via your Apple® or Android™ mobile device or desktop computer with ease. In addition to the convenience this provides, it also enables remote troubleshooting technical support for quicker uptime.
Durable investment. Long-term savings
Developed with durability in mind, the AccuBrine® automated brine maker is manufactured from marine-grade fiberglass to withstand the harsh, corrosive nature of salt, water and winter conditions.
Investing in the AccuBrine® automated brine maker additionally translates into long-term savings. Investment costs are quickly recouped through reduced operational costs including less production time, less manual labor, and fewer deicing applications of regular road salt.
Safe cleaning. More cost-effective.
Cleanout is a fast, automatic and safe process. Unlike other brine makers that require risky, time-consuming manual labor, the cleanout process is completely automatic. The system notifies the operator of the necessary cleanout, rinses itself out, and the sloped floor directs runoff to a designated area.
The process takes approximately fifteen minutes, saving on time, labor and overall costs.
Did you know?

Questions About Deicing. Ask Dr. Scott.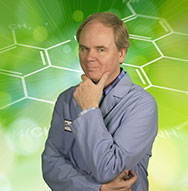 With over 20 years of research experience with deicers, Dr. Scott is ready to answer your most pressing questions about winter maintenance.