Questions About Deicing. Ask Dr. Scott.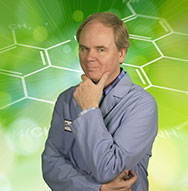 With over 20 years of research experience with deicers, Dr. Scott is ready to answer your most pressing questions about winter maintenance.
Video: Questions & Answers
Video answers to your most pressing questions about deicing
Are you interested in how deicers work? Research continues about the best methods to treat winter roads when the snow starts to fly and Dr. Scott is leading the way. Click on the question links below to learn more and to view videos of Dr. Scott.
Additional Questions & Answers
What deicing product is safe for concrete structures?
Does your brine contain any fracking wastewater?
Can YPS be mixed with liquid MgCl?
What are the advantages of ClearLane® enhanced deicer over Magic Salt?
Which sidewalk deicer provides the best protection for concrete and landscaping?
Any concerns about applying liquid deicer to new asphalt?
Does salt really damage fully cured concrete more than calcium chloride?
What should be deicer of choice for wooden steps and decks?
Do you have recommendations for brine applications?
Do you have a product the can be used on new concrete pavement (1-2 months old) without affecting any warranty issues?
Can the use of solar salt cause damage to concrete?
Does brine change after sitting for a period of time?
We are looking for studies on MgCl vs CaCl or NaCl brines.
What is the industry standard for salt application pounds per acre?
Is there a product to add to brine to slow down "wash away" caused by light to moderate rain which often precedes snow events in western Washington?
What is the best way to treat hills like we have in Duluth, MN?
Is there a product to help remove salt residue on vehicles?
We are just starting to use brine, so any info on de-icing or anti-icing with brine would be appreciated.
What is the gentlest deicer on dog paws?