AccuBatch® brine maker
Brine by the Batch - Simple, Accurate and Cost-Effective
As brine (liquid salt) becomes an increasingly popular winter maintenance solution, finding a brine maker to produce it at the right concentration and stay within your budget can be quite the challenge. Although cost-effective, many entry-level models lack the key features desired to make your brine easily, accurately and without hassle - until now.
Cargill Deicing Technology introduces the most cost-effective and efficient entry-level model on the market to date with the AccuBatch® brine maker.
Budget-friendly brine production
Capable of producing up to 800 gallons of brine per batch, the AccuBatch® brine maker allows users to make just the right amount when they need it.
This top of the line entry-level model is the only one on the market that features an automatic brine concentration measurement via a conductivity sensor. Now you can achieve your optimum concentration levels without the additional labor time needed to manually check and re-check.
Durable and dependable
When investing in a brine maker it is important to know that your machine will last, whether it is an entry-level or top of the line model. That's why the AccuBatch® brine maker is made of durable fiberglass and high-end materials that you can depend on without over-stretching your budget.
A heated structure is not required for storage giving you more options of where to keep it and an increased confidence in its durability.
The AccuBatch® brine maker provides you with everything you need to start up or recharge your anti-icing program and none of what you don't.
Simple setup. Ease of operation.
The AccuBatch® brine maker was designed as a plug-and-play model to save you costly setup time, hassle and installation expense. There is no technical assistance needed. Simply hook up the water and power and begin making your brine.
The procedures and machine controls are simple to use and easy to operate, making this system the perfect fit for any employee to use with minimal training needed.
Easy cleanout
Normally a very labor intensive and costly process, cleaning out your AccuBatch® brine maker is fast and easy to do. Save valuable time and money by keeping your employees focused on their priorities - not the machine.
Don't sacrifice your needs for cost. Get everything you need in one system with the AccuBatch® brine maker. Contact your representative today for more details.
Did you know?

The AccuBatch® brine maker now has an awarded contract with NJPA? Learn more about the benefits of NJPA.
Questions About Deicing. Ask Dr. Scott.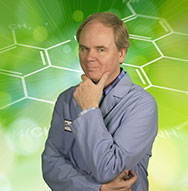 With over 20 years of research experience with deicers, Dr. Scott is ready to answer your most pressing questions about winter maintenance.