Questions About Deicing. Ask Dr. Scott.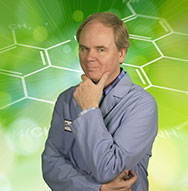 With over 20 years of research experience with deicers, Dr. Scott is ready to answer your most pressing questions about winter maintenance.
ClearLane® Enhanced Deicer FAQs
Questions and answers about ClearLane® enhanced deicer
How is ClearLane® enhanced deicer different from regular rock salt?
ClearLane® enhanced deicer is an enhanced ice melter designed to solve many of the problems facing today's snow and ice fighters. The product is regular rock salt that is pre-wet and treated with liquid magnesium chloride, a corrosion inhibitor, and a coloring agent. The liquid treatment provides many benefits that help users reduce deicing materials costs, impact on the environment and corrosion to their application equipment.
Does the ClearLane® product help make roads safer?
Yes it does. The ClearLane® technology is especially designed to provide superior performance when compared to traditional rock salt. The specialized liquid treatment helps provide:
Faster Melting Action

Lower effective melting temperatures

Longer residual time
These key benefits help users eliminate potentially dangerous conditions sooner than un-treated bulk deicing salt.
Are there cost savings associated with using the ClearLane® product?
Yes. This product scatters less, giving users more product where it is needed, less bounce off to areas where deicing is not needed. Less scatter means you are using less product and getting more efficient melting per application than regular road salt. Fewer applications means reduced fuel, labor and maintenance costs. Users also find that the residual effects of ClearLane® enhanced deicer provide increased protection on the roads throughout sequential winter events. The ClearLane® product continues to work effectively in most instances even after just one application.
ClearLane® enhanced deicer is pre-mixed so no additional labor is required to mix the product, allowing for more efficient and cost-effective use of labor compared to regular road salt application.
Is ClearLane® enhanced deicer as corrosive as regular rock salt?
No. Tests show that ClearLane® is 84% less corrosive than regular rock salt, helping to prohibit corrosion and extend the life of vehicles.
Product Information