European Food Innovation Center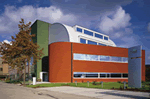 The European Food Innovation Center — located in Belgium, on the outskirts of Brussels — is Cargill's primary technical center serving Europe, the Middle East and Africa. It is closely linked with a network of applications centers across the region, as well as with the North American and Latin American Food Innovation Centers.
Applying years of food ingredient knowledge
The center in Vilvoorde houses some 150 scientists and technologists. They use state-of-the-art laboratories and well-equipped pilot facilities designed with the versatility needed to accommodate customer needs. Their work builds on more than a half-century of research into starch and its derivatives and a decade of exploration into other carbohydrates, as well as proteins and lipids.
With scientists from a range of disciplines working closely together, the center leverages diverse experience and perspectives to create innovative solutions. Our technologists know how to
transform raw materials into functional specialties. They also understand how various ingredients interact with other recipe components, how to achieve desired taste and texture and how to develop tasty, yet healthy, recipes.
Activities at the center include:
Research, including advanced analytics, novel ingredient development, nutrition and health, physical and sensory science and process technology.
Process and product development, with particular expertise in the areas of industrial starch, polyols and dextrose, proteins, fibers, lipids and starch maltodextrin.
Applications with emphasis on bakery, beverage, confectionery, convenience and pharma and personal care. Technologists at the center also work closely with other Cargill centers across Europe, including the Texture Design center in Baupte (FR) for dairy, frozen dessert, fruit, sweet and meat applications.
Technical Service, providing technical assistance and serving as liaison between Cargill customers and the technical expertise they need.