Food Manufacturers
Cargill Protein - North America can help your brands grow in an evolving food landscape.
Consumers view food in a whole new way, and protein is at the center of the revolution. Partner with Cargill to deliver the products customers are looking for and grow your brand.
Successful consumer products start with smart insights. Our dedicated Consumer Insights team leverages market and trend expertise as well as category insights and custom research to better understand consumers and the role that protein plays in their lives.
When you're developing a new product or identifying emerging protein trends and opportunities, Cargill can support your market insight needs.
Did you know?

1 The Hartman Group 2017 Health & Wellness Report
2 Nielsen, US Homescan Protein Panel Survey, 2017
Development expertise
With a global R&D footprint, extensive meat science knowledge, state-of-the-art facilities and an experienced culinary team, we can help you create and commercialize products that optimize:
Taste
Ensuring the protein works with other ingredients to achieve the desired flavors and textures.
Delivering the power of protein with a portfolio of quality ingredients
Our expansive ingredient lineup and capabilities allow you to build winning products across virtually every category and daypart–from frozen breakfast items to refrigerated entrées and everything in between.
Cooked Meats
| CATEGORIES | OFFERINGS | ADDITIONAL CAPABILITIES |
| --- | --- | --- |
| Crumbles | Italian sausage, chorizo, breakfast sausage, beef or pork seasoned crumbles | Custom look or shapes |
| Pepperoni | Traditional, uncured, gluten-free | Diameter range 40-44mm, sticks, sliced, diced |
| Diced and Shredded Meats | Whole muscle or logs, whole and halves, diced, strips, shreds | Slicing, marinating/injection, trim or portioning, oil browning, smoking, seasoning |
| Cooked Burgers and Sausage Patties | Beef or turkey burgers, breakfast sausage patties, chicken patties | Seared or char-marked |
| Salisbury Steak and Meatloaf | Center of plate entrées such as meatloaf or Salisbury steak | Multiple proteins, custom shapes |
| Kettle Cooked Soups and Sauces | Soups, sauces, queso, marinara, dips | Meat and vegetables can be included |
| Hot Dogs & Sausages | Hot dogs, bratwurst, Polish sausage, smoked sausage | Inclusions, smoked, links, slices, skinless or with skins |
| Chicken Wings & Tenders | Fully cooked wings (multiple flavors), breaded tenders | Wings: sauced, bone in, small to jumbo; Tenders: breaded, boneless, target sizing |
Prepared Eggs
| CATEGORIES | OFFERINGS | ADDITIONAL CAPABILITIES |
| --- | --- | --- |
| Patties | Rounds and folded squares | Inclusions such as meat, vegetables and cheese, grilled or baked |
| Entrées | Omelets, frittatas, quiches, wraps | Inclusions such as meat, vegetables and cheese, multiple formats; open-faced, folded or rolled, tortilla wrapped |
| Scrambled and Diced Eggs | Scrambled whole egg or whites, diced eggs or scramble pre-blends | Extruded or diced in a variety of piece sizes, scrambles with mixed inclusions |
| Hard-Cooked Eggs | Individual or twin-packs, large MAP packs, brine pails | Multiple egg sizes |
| Liquid Eggs | Whole eggs, egg whites, yolks, or scramble blends in specialty formulations | Frozen or refrigerated, cartons and bags |
| French Toast | Traditional square, sandwich rounds, or sticks, plain or cinnamon-glazed | Multiple bread types, flavored batters or glazes, stick cutting or perforation |
Fresh Proteins
| CATEGORIES | OFFERINGS | ADDITIONAL CAPABILITIES |
| --- | --- | --- |
| Beef | Ground or whole muscle, lean processing | Blending capabilities, source grinds, specialty claims |
| Turkey | Ground or whole muscle, lean processing | Blending capabilities, specialty claims |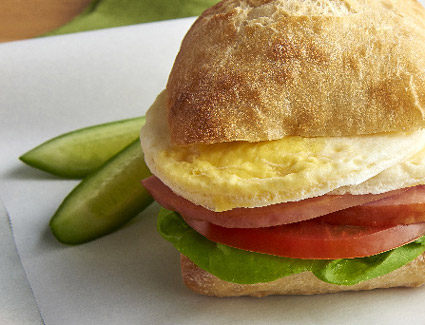 Partner with Cargill to help your products stand out and sell
R&D and innovation
Culinary expertise
Trusted supply chain
Contact Cargill Protein - North America about any questions you have regarding our protein products for Food Manufacturers.