David Dines
Corporate Senior Vice President
*Jamie Miller was appointed Chief Financial Officer beginning on June 1, 2021. To help ensure a smooth transition in leadership, David Dines will conclude his 29-year career with Cargill on September 2, 2021.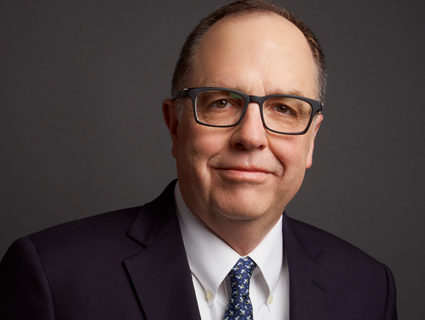 When Cargill named a new Chief Financial Officer in 2018, it looked to a familiar face. With a career spanning 29 years at Cargill, David Dines has a deep understanding of the company's diverse businesses and a track record of leading through change. He has served on Cargill's Executive Team since 2015.
Prior to becoming CFO, David oversaw Cargill Metals & Shipping and Cargill Risk Management (CRM). Helping build CRM into a $50 million business that employs 160 people is one of his proudest career achievements. Prior to joining Cargill, David was a vice president at Bankers Trust Company where he spent nine years.
A supporter of his local community, David sits on the boards of Greater MSP, an organization focused on economic development, and the Guthrie Theater, a nationally recognized regional theater in Minneapolis. He has also served as Chairman of the Board of Big Brothers Big Sisters of the Greater Twin Cities and on the Simpson Housing Services Board of Directors.
A native of Denver, Colorado, David holds a bachelor's degree in economics from Colorado College. He currently resides in Minnesota with his wife. His personal passions include golf, woodworking and downhill skiing.