Pilar Cruz
About Pilar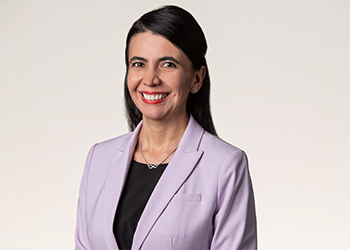 Pilar Cruz is President and Group Leader for Cargill's Aqua Nutrition business globally, within the Animal Nutrition & Health Enterprise.
Pilar joined Cargill in 2002 as an Associate in Corporate Strategy and Business Development. Her operational experience began in 2006 when she was appointed General Manager for the Beef Business with Cargill Meats Canada. In 2008, she moved to Oklahoma City where she led the animal nutrition business for the South Central US. In 2011, she moved to Costa Rica to successfully lead Cargill's integration of Pipasa, a poultry acquisition in Central America. In 2012, she moved to Nicaragua to lead Cargill's poultry operations, which then led to her being appointed as President for Cargill Meats Europe after one year. In 2015, she was named Corporate Vice President and Head of Corporate Strategy and Development. In 2017, she was named President of Cargill's Feed and Nutrition business globally.
Pilar serves on the Board of Donaldson Company Inc., a Minnesota-based public company and global leader in engine and industrial air, oil and liquid filtration solutions. Pilar is a strong believer in the need to foster inclusion and diversity. She is a mentor for younger talent within Cargill – and was named one of Latino Leaders "Top 100 Most Influential Latinas" in 2020.
Originally from Bogotá Colombia, Pilar has a bachelor's degree in Economics from the Universidad de Los Andes and a Master's degree in Business Administration from the University of Michigan Ross School of Business.