Cargill is a leader in tender, juicy and delicious turkey products, from whole turkeys to boneless, bone-in, cured meats and more. Cargill's Shady Brook Farms and Honeysuckle White turkeys are independently raised with no growth-promoting antibiotics*, so you can bring great-tasting turkey to your customers you can feel good about year-round. Select a logo above to go directly to our brand websites, or learn more below.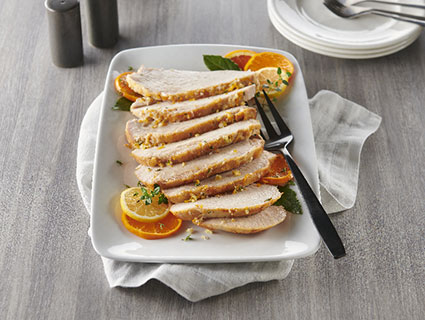 Fully Cooked
Safety and consistency. Speed-scratch and responsible. Our cooked turkey options are free from nitrates and added colors, meeting the customer demands of today.
Raw and Ready to Cook
Our turkey products arrive conveniently prepped and ready to cook, enabling the freedom to innovate and meet the unique needs of your customers and your menu.
*Turkeys raised with no added Hormones or Steroids. Federal regulations prohibit the use of Hormones or Steroids in poultry.
Antibiotics responsibly used only when needed for treatment or prevention of illness.