Empowering 30,000 women farmers at grassroots, through poultry production
"
"
I would have lost everything and had to start from scratch. We were stuck in a cycle.
Lata is one of millions of smallholder farmers across the world facing acute poverty and food insecurity. Supported by Hatching Hope initiative Lata is using the resources and platform the project has provided to build a profitable and sustainable poultry business, enabling her in improving her livelihood.
The Hatching Hope initiative, which aims to improve the nutrition and economic livelihoods of 100 million people globally by 2030 through the production, promotion, and consumption of poultry, was launched in India in 2018 by Cargill and Heifer International. Although almost 80% of rural households in developing nations keep chickens, the majority of farmers lack the knowledge, technical support and market access necessary to make poultry farming a dependable source of revenue and nutrition.
Lata is one of the 30,000 farmers in Odisha who are today benefitting from Hatching Hope's Backyard Poultry Production (BYP) programme. BYP has helped them learn better production techniques, enabling them to improve their flock health and bird size. These farmers, in turn, are improving income and nutrition across 3,00,000 households. With the majority of BYP farmers being women, the project is transforming female poultry farmers into entrepreneurs and enabling them to take charge of their own destiny.
Lata is a part of Self Help Group (SHG), which was taken under the project in 2019. Along with other members of her group, she was provided training on self-help group management, learning improved poultry management practices and cultivating a homestead kitchen garden. With support from the project, she constructed a poultry coop based on biosecurity and backyard poultry management practices.
Through the project, Lata has learned many good practices such as using lime powder to disinfect coops, avoiding mixing her birds with wild fowls to contain disease spread and availing herself of health services such as deworming and vaccination to keep the birds healthy. She has also become aware of behavioural guidelines and measures that prevent animals from catching and spreading zoonotic diseases.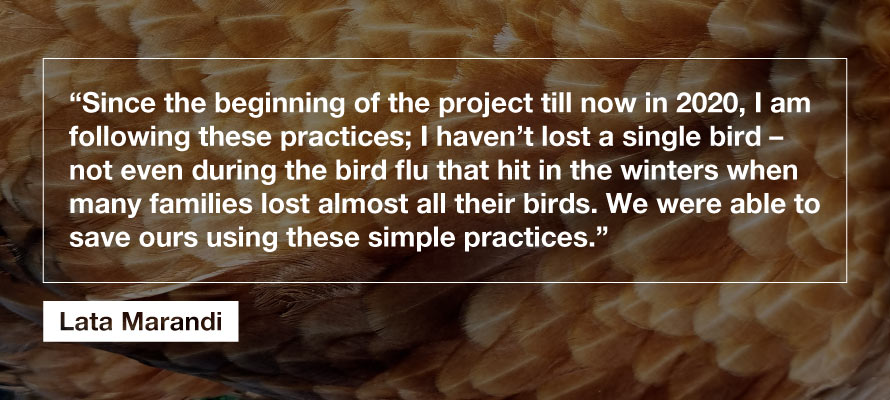 The training that Lata received under the project has been a boon to her fledgling poultry business. With a bigger flock of healthy birds, Lata saw an increase in her income, too. Lata is able to sell approximately 25-30 birds in a year – each bird selling for approximately USD 4.5, adding nearly USD 150 to her household income. She has also managed to open a new feed mill, which she operates with one of her sons. For her feed business, Lata received training and a small loan from the project and reinvested the profit she had earned from her chicken sales.
Agriculture is powered by people – from farmers, ranchers and producers to factory and food service workers. Cargill is committed to respecting human rights in the workplace, in our supply chain and in the communities where we do business. We work with farmers around the world to build a resilient agriculture industry that improves farmer livelihoods and protects our planet. The Hatching Hope project is addressing issues of poverty and malnutrition, along with stimulating economic transformation in struggling rural communities.
Lata now has a profitable poultry and feed business and cultivates vegetables in her garden that provides nutrition to her family and supplements her household income. "I am so glad I took up this opportunity. I am sure my business will continue to grow consistently in the coming days," exclaims Lata.
Hatching Hope's work lies at the intersection of sustainability, food security, and nutrition – three benefits that are being internalised by local communities. The various trainings and subsequently improved poultry practices are helping smallholder farmers like Lata in securing sustained livelihood for themselves and their families.