Chocolate ingredients & solutions
A wealth of on-trend and delicious chocolate options to meet today's changing consumer needs
Cargill's chocolate ingredients & solutions are delighting our customers and their consumers each and every day. Whether you are seeking chocolate for confectionery, baked goods, biscuits, ice creams or cereals, we have the right solution to help you succeed in today's changing consumer marketplace.
Our passion for chocolate means that our value goes far beyond our broad range of products. By working with Cargill, you will receive all the support you need for your next product, by benefiting from the wealth of experience of our chocolate engineers, and sensory capabilities.
You can rely on us in understanding consumer expectations and market trends, so we can guide you towards the perfect recipe for your end products.
A broad range of products
Chocolate in a variety of dark, milk and white options for industrial and artisanal applications. Available in liquid bulk and solid forms, including buttons, drops and chunks.
Specialty chocolates that offer unique value e.g. organic, single origin, reduced sugar, Bright White, and vegan.
Deep chocolate expertise
Our chocolate engineers have the passion and expertise to create the perfect product for you, and achieve the ideal sensorial experience for your consumer.
A perfect example of how we are helping our customers win is the opening of Cargill's House of Chocolate® (Mouscron, Belgium), in 2022. This center has been specifically designed to support our customers and partners from idea to execution. It is a unique center for inspiration, co-creation and innovation all under one roof.
Robust and fair supply chain
By working with us, you will also benefit from our robust and fair integrated supply chain, our unique price risk services and our commitment to sustainability – from bean to bite.
To ensure a more sustainable supply of quality cocoa beans, Cargill operates our own sourcing and trading operations at origin in Brazil, Ecuador, Cameroon, Côte d'Ivoire, Ghana and Indonesia. The Cargill Cocoa Promise underlines our commitment to enable farmers and their communities achieve better incomes and living standards.
Broad food knowledge
With a heritage of more than 150 years, Cargill is uniquely positioned to deliver food manufacturers a diverse portfolio of ingredients, with a responsible supply chain that prioritizes sustainability, fully integrated processes, and application expertise. Our chocolate customers directly benefit from this scale and knowhow.
Our direct experience in other sectors and access to a large ingredient portfolio means that can we find solutions to the most complex customer requests. It's enabling us to deliver innovation in all kinds of chocolate applications, and also provide compound solutions for coatings & fillings.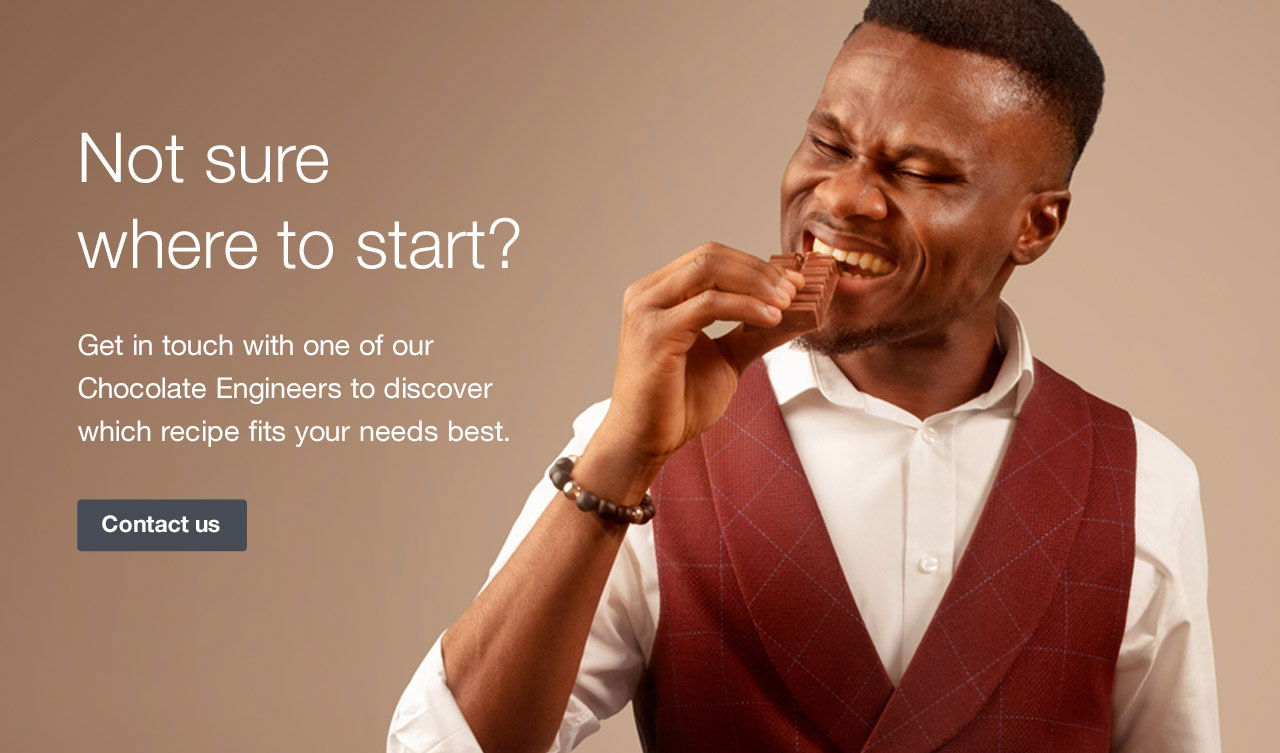 Explore further
Our Milk Chocolate Engineers have used decades of technical expertise to create thousands of milk chocolate recipes for all possible applications and desired taste profiles.
[EMEA, Global]/[]
From indulgent to premium, healthy or sustainable and natural solutions, discover our range of chocolate products, designed in response to key market trends.
Upgrade your chocolate product lines with premium chocolate products from Cargill and delight connoisseurs with a taste of the world's finest cocoa growing regions.