"Farmers care about protecting our land and water, and growing quality food." - Lance Lillibridge from Iowa
Lance and Heidi Lillibridge run a 2,000-acre farm in Benton County, Iowa. They grow corn, soybeans and alfalfa, and children Tess and Ty have taken their Red Angus cattle to state and national shows.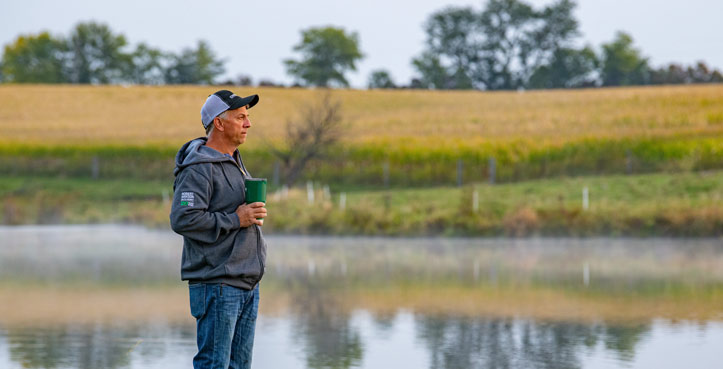 "Farmers care about protecting our land and water, and growing quality food," says Lance. "To me, regenerative agriculture means growing soil as well as corn. We're conserving soil and keeping the biology working correctly – so we can help feed the world."
When Lance and Heidi started this first-generation farm, conservation tillage was causing erosion on the gently rolling ground. So 14 years ago, they switched to strip-tilling. After seeing the benefits, Lance tried other regenerative measures, such as cover crops.
Instead of cereal rye, Lance and Heidi prefer alfalfa, red clover, oats, turnips and radishes. Tillage radishes benefit the soil, their roots reaching up to a foot deep, and the cows love grazing on the turnips. Cover crops add an underground source of food for the microbes, regenerating the soil. "The alfalfa and red clover are great scavengers for nitrogen, and we see nitrogen modulation on the roots," says Lance. Nitrogen levels influence root architecture and crop yields.
One of Lance's favorite practices is GPS tracking of soil nutrients. He can cut back on fertilizer where he's sustained the nutrients within the soil.
While some farmers favor crop rotation, Lance believes that consistency can benefit the soil. "Rotating crops shocks the biological system underneath the surface," he explains. Planting corn on corn helps maintain the beneficial soil bacteria and other microbes. Corn's large root system also stabilizes the soil.
A recent study of 600+ acres of the land estimated the Lillibridges are now saving 85 truckloads of soil each year. "Before strip-tilling, we wouldn't even have noticed 1,275 tons of soil disappearing in wash-out and rains," admits Lance.
Preserving the soil can have a huge effect on the land, the crops – and the planet. But changing agricultural practices requires investment. After two years of strip-tilling, Lance was tempted to quit; but in the third year, after fine-tuning practices, they started to see the benefits: yield increases, reduced fertilizer and fuel use, and higher profitability.
The public wants sustainability, and Lance believes an independent certification system could help reward farmers for doing what's right.
"Farming is challenging, not for the faint-hearted. Being sustainable, with our land, our time and our equipment, is the only way to survive – and thrive."