Advancing animal health innovations that build farmer resilience and improve public health
USAID Transformational Strategies for Farm Output Risk Mitigation (TRANSFORM)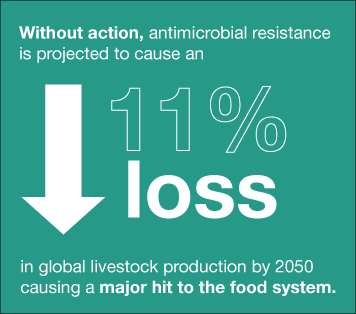 At Cargill, we work with farmers to build a resilient agriculture industry by focusing on the most pressing sustainability challenges facing the world today – including antimicrobial resistance and emerging infectious diseases. Over 70% of emerging infectious diseases are zoonotic – transmitted from an animal to human, putting increasing pressure on our health systems, affecting human health and causing economic losses. Transboundary animal diseases – the spread of disease from one animal to another – can decimate farmers' flocks and herds. And the more we use antibiotics for animal agriculture, the more we struggle with antimicrobial resistance, threatening our ability to treat infections in humans and animals.
It's estimated that by 2050 we will need to produce 60% more food to feed a world population of 9.3 billion. At the same time, without action, antimicrobial resistance is projected to cause an 11% loss in global livestock production by 2050 – causing a major hit to food production and farmer livelihoods.
Agriculture is How we come together to help address global health challenges
TRANSFORM is working in Kenya, India, Indonesia, and Vietnam to increase the capacity of small- and large-scale farmers, governments, and agribusinesses to prevent emerging zoonoses and transboundary animal disease and mitigate antimicrobial resistance. All the while, we remain focused on the productivity and profitability of farmers.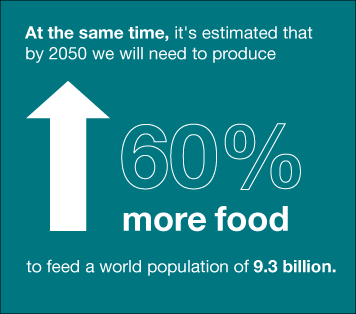 Healthy animals reduce the need for antibiotics. And Cargill knows that healthy animals are critical to dietary diversity, farmer livelihoods, and human health. That's why, through TRANSFORM – a USAID-funded project and a critical part of the Global Health Security Program – Cargill is researching and developing market-driven solutions that improve animal health – an effort that is contributing to global health security and increasing people's access to safe, affordable animal-sourced nutrition. USAID understands that human health is linked with the health of animals, and TRANSFORM represents an innovative way for the public and private sector to come together to protect human health by improving animal production practices.
Using Research and Development to deliver innovative solutions that meet market needs
Agribusiness regularly uses research and development to test agricultural products and services in market before bringing them to scale. Cargill knows this is critical for long-term market uptake. The same is true for TRANSFORM. This project is using research and development to advance sustainable solutions that improve animal health so significantly that the risk of disease is considerably lower, animal production is considerably higher, the use of antibiotics is significantly reduced. Partnering with farmers – the foundation of a resilient supply chain – is essential to the success of this work.
Here are TRANSFORM's focus areas:
A public-private sector consortium
TRANSFORM is a critical part of USAID's Global Health Security Program, which invests in "One Health" approaches that recognize that the future well-being of humans, animals, and the environment are inextricably linked. Our consortium of private and public sector organizations are working to create shared value – for each other, our partners, and the communities where we work. Each of the following members contributes unique expertise and capabilities.
CARGILL, a global agribusiness company, contributes its relationships to farms of all sizes across multiple species and offers products, services, and solutions that support animal health by balancing gut microbiota and the immune system.  
AUSVET, a global consulting company specializing in One Health epidemiology, disease surveillance tools and health information systems, contributes its field data collection and information system and epidemiological expertise.​ 
HEIFER INTERNATIONAL, a global non-governmental organization working to end hunger and poverty through agriculture, contributes to relationships with smallholder farmers across the world.​ 
INTERNATIONAL POULTRY COUNCIL, a global industry membership organization, contributes by bringing together poultry stakeholders from all continents, representing the value chain from genetics to consumption, and working to proactively address shared challenges and opportunities.
Want to learn more about opportunities to partner with TRANSFORM and Cargill?
Please visit our "Opportunities" page.